Alex Murdaugh admits he lied about being at kennels and his alibi on night of murders in bombshell testimony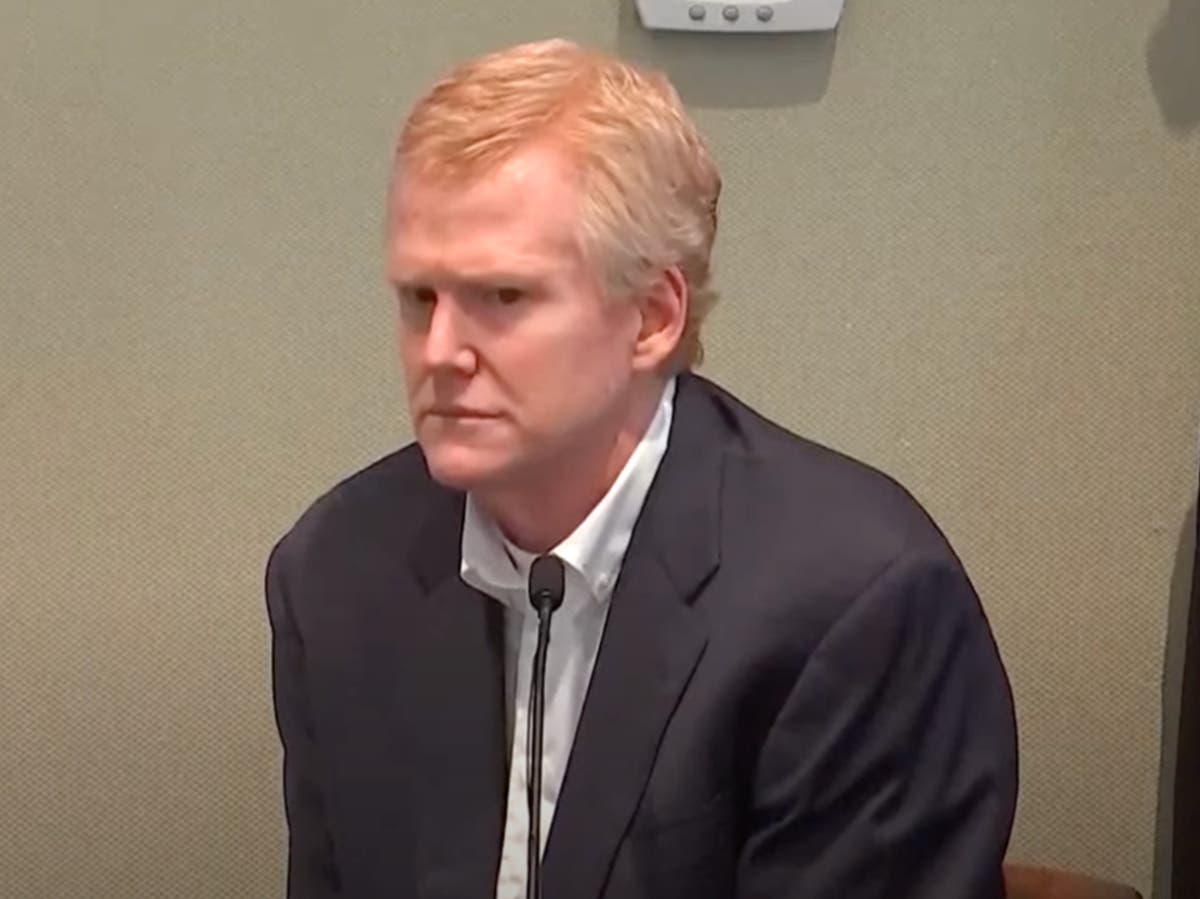 Embattled legal dynasty heir and accused killer Alex Murdaugh has confessed to lying about his alibi on the night of the murders in bombshell courtroom testimony.
In a dramatic – and hotly-anticipated moment – in Colleton County Courthouse in Walterboro, South Carolina, on Thursday morning, the 54-year-old took the witness stand in his trial for the brutal murders of his wife Maggie and son Paul.
The disgraced attorney insisted that he is innocent of the horrific slayings but, in a dramatic moment, confessed that he had lied about not going to the dog kennels with Maggie and Paul on the night of 7 June 2021.
He blamed his opioids addiction and his distrust of SLED for giving him "paranoid thoughts" and leading him to lie to law enforcement agents, family members and friends on multiple occasions.
"On June 7, I wasn't thinking clearly. I don't think I was capable of reason. And I lied about being down there. And I'm so sorry that I did," he said, his eyes brimming up with tears.
"And I'm so sorry that I did."
Mr Murdaugh said that once he started lying, he couldn't get out of it.
"Oh what a tangled web we weave. Once I told the lie, and I told my family, I had to keep lying," he testified.
Mr Murdaugh broke down in tears as he apologised to his family – including Maggie and Paul – for lying.
"I would never do anything intentionally to hurt them, ever," he said.
This is the first time that Mr Murdaugh has ever confessed publicly or to law enforcement that he had lied.
This confession comes after jurors have seen a damning cellphone video which places him at the scene of the murders.
The video, captured by Paul at 8.44pm on 7 June 2021, reveals three voices at the dog kennels on the family estate.
Multiple witnesses – including family friends and law firm partners – have testified that they are "100 per cent sure" that the three voices belong to Maggie, Paul – and Mr Murdaugh.
Minutes later, at around 8.50pm, prosecutors say Maggie and Paul were shot dead.
Mr Murdaugh has long claimed he never went to the kennels that night. He claimed he was asleep at the house at the time of the murders and woke up and went to visit his mother. When he returned, he found his wife and son weren't home and drove to the kennels.
There, he claimed he discovered their bodies, calling 911 at 10.06pm.
No doubt, if Mr Murdaugh hadn't confessed during direct questioning from his defence team, he would have faced a grilling about why he lied about being at the kennels that night.
Mr Murdaugh was confronted by his defence attorney Jim Griffin about the murders and his fake alibi as soon as he took the stand.
Instantly, the defence launched into questioning as to whether he shot and killed his wife and son.
"No I did not," he said.
"Did you take this gun or any gun like it and blow your son's brains out?" Mr Griffin asked.
"No I did not," he insisted.
"I did not shoot my wife or my son any time, ever," he added.
Mr Murdaugh broke down in tears as he said he was very close to Paul – who he repeatedly referred to as "Paw Paw" – and said that "you couldn't not love spending time" with the 22-year-old.
He said he and Paul drove around and did work on the grounds together that evening.
The work – and his consumption of drugs – made him sweaty so he took a shower and changed into the white t shirt and shorts that he is seen wearing in the bodycam footage, he testified.
Mr Murdaugh said that he and Maggie ate dinner together, whereas Paul was "always on the go" and had pretty much finished eating.
Maggie then wanted to go down to the kennels but he did not want to go with her at first, he said.
She left without him going down to the kennels with Paul, he said.
But, after lying on the couch for some time, he decided he would do as she asked and go down to the kennels, he testified.
He drove the golf cart down there, he said.
Mr Murdaugh testified that he did not know at the time how Maggie and Paul got down to the kennels but now believes Paul drove them.
"It was a little bit of chaos. It was clear to me that Mags had just let the dogs out. The two dogs that were out were her pet dogs," he said.
He said one of the dogs Bubba caught a chicken.
After getting the chicken out of Bubba's mouth, he said he "got out of there".
"I got out of there, I left. I went back to the house," he said, saying that he drove back in the golf cart.
"I went straight back to the house to the air conditioner."
Mr Murdaugh's former friend and law firm partner Mark Ball previously testified that he noticed a golf cart next to the family home in the aftermath of the murders.
Mr Murdaugh testified that he then lay down on the couch and said he "wasn't positive if he did or didn't doze off for a minute". He then decided he would go to visit his mother, he said.
Mr Murdaugh broke down in tears multiple times on the witness stand – something he has also done at the witness table throughout the weeks-long trial.
As he testified, he faced the jury to speak to them face on and had addressed them with a cordial "good morning" as he got to the stand.
Before the day's proceedings got under way, the disgraced attorney had defiantly told Judge Clifton Newman that he had finally made his decision to testify at his trial.
"I am going to testify. I want to testify," he vowed confidently.
Mr Murdaugh is accused of gunning down his loved ones in a horrific fashion on the grounds of the family's 1,700-acre estate in Islandton, South Carolina, back on 7 June 2021. He has pleaded not guilty to the charges.
The decision for Mr Murdaugh to testify comes as the defence plans to wrap up its case on Friday – a case that seeks to present the alleged killer and financial fraudster as a loving family man who would never have murdered his wife and son.
So far, jurors have heard from 10 defence witnesses including experts who testified about mistakes in the preservation of crime scene evidence, a ballistics expert who claimed Maggie's shooter was 5'2" tall and not the 6'4" Mr Murdaugh, and the accused killer's surviving son Buster.
This comes after jurors have heard four weeks of dramatic testimony from the prosecution, presenting Mr Murdaugh as a serial liar who stole millions from his own law firm and friends, and orchestrated situations to paint himself as a victim when his alleged crimes were on the brink of exposure.
In total, 61 prosecution witnesses covered a trove of circumstantial evidence, including cellphone and car data, a damning video allegedly placing Mr Murdaugh at the crime scene and apparent holes in his alibi for the time for the murders.
The decision to put Mr Murdaugh on the stand came down to the wire, with his defence attorneys paying him a jailhouse visit on Wednesday night.
Attorneys Dick Harpootlian and Jim Griffin had previously said that their client wanted to testify in his own defence but were dealt a – not entirely unexpected – blow when the judge refused to limit the scope of his cross-examination.
On Wednesday morning, Mr Griffin asked Judge Clifton Newman to bring an order preventing the prosecution from cross-examining Mr Murdaugh about his string of alleged financial crimes should he take the stand.
Mr Griffin said the legal team had not yet decided whether or not Mr Murdaugh would testify in his murder trial but that they wanted the financial crimes to be off-limits if he did.
Prosecutor Creighton Waters argued that the cross-examination is "wide open" to all the alleged crimes – including the financial crimes – if Mr Murdaugh takes the stand. Judge Newman sided with the state, refusing to issue an order ahead of the testimony.
"For the court to issue a blanket order limiting the scope of cross-examination, that's unheard of to me," he said.
Prosecutors allege that Mr Murdaugh killed his wife and son to distract from his string of alleged financial crimes – at a time when his multi-million-dollar fraud scheme was on the brink of being exposed.
At the time of the murders, Mr Murdaugh was being sued by the family of Mallory Beach – a 19-year-old woman who died in a 2019 crash in the Murdaugh family boat.
Paul was allegedly drunk driving the boat at the time and crashed it, throwing Beach overboard. Her body washed ashore a week later. Paul was charged with multiple felonies over the boat wreck and was facing 25 years in prison at the time of his murder.
The Beach family sued Mr Murdaugh and a lawsuit hearing was scheduled for the week of the murders.
Their attorney had also filed a motion to compel, which prosecutors say would have exposed Mr Murdaugh's ruinous finances.
The 10 June hearing was then postponed following Maggie and Paul's murders.
Prosecutors claim that Mr Murdaugh's multi-million-dollar fraud scheme was also on the brink of exposure, with his law firm PMPED closing in on his alleged theft.
That very morning, the CFO had confronted him about $792,000 worth of missing payments.
Mr Murdaugh had allegedly stolen the money and could not pay it back.
Jurors have heard testimony from several law firm partners and clients about how Mr Murdaugh stole millions over a decade-long fraud scheme.
In a blow to the defence – and a bonus to the prosecution's case presenting Mr Murdaugh as a master manipulator – jurors also heard about the bizarre botched hitman plot.
On 3 September 2021, Mr Murdaugh's law firm partners confronted him that they had uncovered his sprawling theft from the company. He was forced to resign.
Then, three months on from the murders on 4 September 2021, Mr Murdaugh was suddenly shot in the head along the side of a road in Hampton County.
He survived and called 911, claiming he was ambushed in a drive-by shooting while he was changing a tire on his vehicle.
But, Mr Murdaugh's story about the incident quickly unravelled.
One week later on 13 September, he confessed to law enforcement that he had orchestrated the whole saga, paying an alleged hitman to shoot and kill him in an assisted suicide plot so that his surviving son Buster could get a $10m life insurance windfall.
He told investigators that he had paid Curtis "Eddie" Smith – a former law firm client, distant cousin and allegedly his drug dealer – to carry out the shooting. Both he and Mr Smith were arrested and charged over the incident.
The plot, described as the "side of the road" incident, marked one of the most bizarre twists in the sprawling scandal which has enveloped the disgraced heir to a prominent South Carolina legal dynasty over the past 20 months.
Prosecutors say this fits the pattern of Mr Murdaugh orchestrating a crime to make himself a victim – and to get out of being held accountable for his actions.
The brutal double murders brought to light a series of scandals surrounding Mr Murdaugh including unexplained deaths, the multi-million-dollar fraud scheme and the botched hitman plot.
Days on from the shootings, an investigtion was then reopened into the 2015 death of Stephen Smith, who was found dead in the middle of the road in Hampton County.
The openly gay teenager, 19, had suffered blunt force trauma to the head and his death was officially ruled a hit-and-run. But the victim's family have long doubted this version of events, with the Murdaugh name cropping up in several police tips and community rumours.
An investigation was also reopened into another mystery death connected to the Murdaugh family – that of the Murdaugh's longtime housekeeper Gloria Satterfield.
She died in 2018 in a mystery trip and fall accident at the family home. Mr Murdaugh then allegedly stole around $4m in a wrongful death settlement from her sons.
The 54-year-old is facing life in prison on the murder charges.
Denial of responsibility! insideheadline is an automatic aggregator around the global media. All the content are available free on Internet. We have just arranged it in one platform for educational purpose only. In each content, the hyperlink to the primary source is specified. All trademarks belong to their rightful owners, all materials to their authors. If you are the owner of the content and do not want us to publish your materials on our website, please contact us by email – [email protected]. The content will be deleted within 24 hours.