Alex Murdaugh snaps in tense cross-examination about faking police power, stolen funds and lavish lifestyle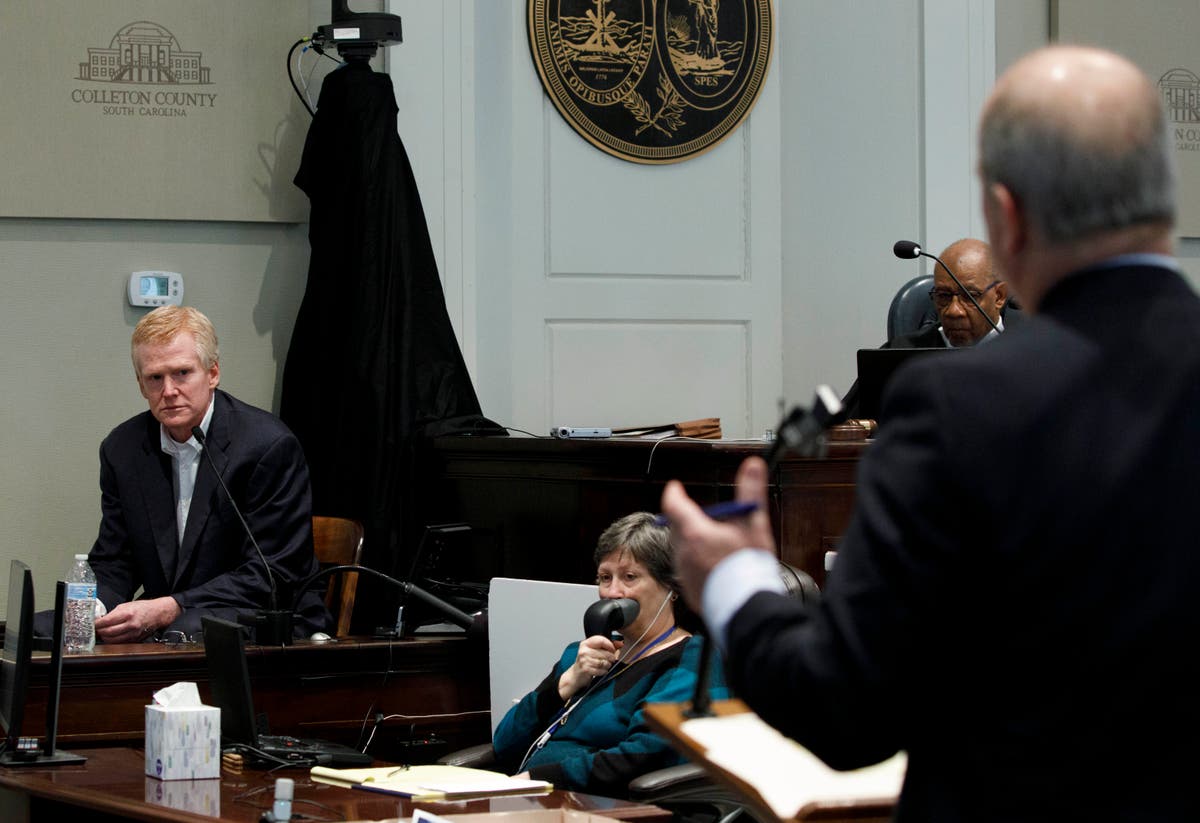 Alex Murdaugh snapped during a tense cross-examination about his family's prominence in the low country, his alleged abuse of power, and the string of legal clients who he stole millions of dollars from.
The disgraced legal dynasty heir was confronted by prosecutor Creighton Waters as he took the witness stand on Thursday in his high-profile trial for the 7 June 2021 murders of his wife Maggie and son Paul.
Mr Waters pressed the accused killer again and again to recount just one time that he could recall sitting down with one of his legal clients and lying to their faces as he secretly stole every dime of their settlements.
Mr Murdaugh was unable to give even one example.
The prosecutor hammered home that they are "real people" by listing off several individuals who had suffered extensive injuries or losses – and were then swindled by the now-disbarred attorney.
"These are real people, weren't they?" Mr Waters said.
Mr Murdaugh fired back: "These are people that I still care about, and I did them this way. There is no question that I did a lot of damage, and I wreaked a lot of havoc."
In one case, Mr Murdaugh stole $6m from Hakeem Pinckney, a man who became a quadruplegic after a car crash.
Mr Pinckney won a $10m settlement and Mr Murdaugh got $4m in fees. He then stole the rest.
Mr Murdaugh also stole more than $1m from teenager Natasha Thomas over the car wreck.
The cross grew increasingly heated as Mr Waters delved into the financial crimes with Mr Murdaugh repeatedly returning to what the prosecutor said was a rehearsed line.
"How many times did you practice that answer before your testimony today?" he asked.
Mr Murdaugh fired back: "I've never practiced that answer."
At one point, an agitated Mr Murdaugh said: "You have charged me with murdering my wife and son. And I have sat here for weeks listening to all this financial stuff and I admit I have done wrong.
"I'm happy to talk about that. I'm required to talk about that… but the details you're asking for I can't tell you but in all these situations I stole money that was not my money, I misled people that I should not have and I did wrong.
"I'm embarassed by it. I'm embarassed for my son and I'm embarassed for my family."
Mr Waters repeatedly told him that he knows he wants the "answer to be that simple" but that Mr Murdaugh must have sat down and lied to the faces of his victims as he stole from them.
Separate to the murder trial, Mr Murdaugh is charged with around 100 counts from multiple indictments alleging he stole nearly $8.5m from clients at his law firm PMPED in fraud schemes going back a decade.
The attorney, who has since been disbarred, allegedly represented the clients in wrongful death settlements before pocketing the money for himself.
Mr Murdaugh confessed to the financial crimes during his direct testimony claiming that he was in the throes of a 20-year opioid addiction.
But, under cross-examination, Mr Murdaugh admitted that some of the money likely went elsewhere.
The disgraced attorney – who was earning upwards of $1m a year through legitimate means – refused to class himself as wealthy or admit that he led an affluent lifestyle.
He also sparred with the prosecutor over the prominence of the Murdaugh family in Hampton County.
The Murdaugh family has reigned over the local justice system for almost a century with three generations of the family all serving as the solicitor in the 14th Judicial Circuit solicitor's office.
His father Randy was given the highest civilian award, the Order of the Palmetto, by the South Carolina governor in 2018 for his work and Mr Murdaugh mentioned during his testimony a time when Maggie attended the governor's mansion.
Mr Murdaugh followed in his family's footsteps becoming a civil lawyer.
As well as pointing out Mr Murdaugh's experience included work on trials and knowledge of cellphone and car data use in cases, Mr Waters also questioned him about the power he and his family wielded.
Mr Murdaugh admitted that people likely saw him as a successful lawyer and that he and his family were prominent in the local legal circles.
They had "a lot of friends in law enforcement," he said.
But he insisted that the family does not see themselves as "big shots".
Mr Murdaugh is then grilled about his association with local law enforcement, with the prosecutor suggesting that he used this influence to his advantage.
Jurors were shown an assistant solicitor badge with Mr Murdaugh's name on – when he only ever worked as a volunteer in that role under his father and then his father's successor.
He admitted he kept the badge in his car so he would "get better treatment" if he were pulled over by law enforcement.
The jury also learned how he fitted blue police lights in his vehicle – even though he was never a member of law enforcement. He said his friend Colleton County Sheriff Andy Strickland told him he could do so (Mr Strickland was later fired and charged with financial corruption).
Mr Murdaugh was then confronted about whether he sought to influence the victims of the fatal 2019 boat crash involving Paul.
In February 2019, Paul was allegedly drunk driving a boat and crashed it, throwing him and his friends overboard. While the others survived, the body of Mallory Beach, 19, washed ashore a week later.
Paul was charged with multiple felonies over the boat wreck and was facing 25 years in prison at the time of his murder.
The court was shown a surveillance image of Mr Murdaugh at the hospital where the other teenagers were taken. He is wearing his soliticor's badge hanging out of his pocket in the image.
Mr Murdaugh denied telling the survivors not to cooperate with law enforcement and said he wasn't sure why he had his badge on him.
"I never told anybody not to cooperate with law enforcement," he insisted.
"Did I pull my badge out when I went in the room with those kids? I know I did not do that."
Mr Murdaugh was later the focus of a grand jury investigation into allegations he tried to meddle in the boat crash case and influence witnesses. He admitted he learned about it sometime before the murders.
"I don't know the status of that investigation, since I've been charged with everything else, and not that," Mr Murdaugh said.
Alex Murdaugh sobs while giving testimony during murder trial
The Beach family later sued Mr Murdaugh and a lawsuit hearing was scheduled for the week of the murders.
Their attorney had also filed a motion to compel, which prosecutors say would have exposed Mr Murdaugh's ruinous finances.
In another testy exchange, Mr Waters elicited an angry response from Mr Murdaugh when appeared to suggest that he was playing up to the image of himself as a loving family man.
He questioned whether Mr Murdaugh had called Paul "Paw Paw" during any of the other evidence in the investigation, such as footage and cellphone evidence.
"Is today the first time I called my son Paw Paw?" Mr Murdaugh fired back.
He said he didn't know if he had referred to him that way in the investigation but said that he had always called his son that.
During the cross-examination, Mr Waters instantly confronted Mr Murdaugh about his confession that he had lied about his alibi on the night of the murders for the last 20 months.
Mr Murdaugh admitted that his testimony marked the very first time that he had confirmed to law enforcement, prosecutors and officials that he was at the dog kennels with Maggie and Paul minutes before they were brutally gunned down.
For the past 20 months, Mr Murdaugh has claimed he never went to the kennels that night. He claimed he was asleep at the house at the time of the murders and woke up and went to visit his mother. When he returned, he found his wife and son weren't home and drove to the kennels.
There, he claimed he discovered their bodies, calling 911 at 10.06pm.
In a dramatic moment during his direct testimony, confessed that he had lied about not going to the dog kennels with Maggie and Paul on the night of 7 June 2021.
He blamed his opioids addiction for giving him "paranoid thinking" and his distrust of SLED which together led him to lie to everyone – including law enforcement agents, family members and friends – on multiple occasions and for the past 20 months.
"On June 7, I wasn't thinking clearly. I don't think I was capable of reason. And I lied about being down there. And I'm so sorry that I did," he said, his eyes brimming up with tears.
"And I'm so sorry that I did."
Mr Murdaugh said that once he started lying, he couldn't get out of it.
"Oh what a tangled web we weave. Once I told the lie, and I told my family, I had to keep lying," he testified.
This confession comes after multiple witnesses – including family friends and law firm partners – have testified that were "100 per cent sure" that Mr Murdaugh's voice is in a cellphone video taken by Paul that night.
The video, captured by Paul at 8.44pm on 7 June 2021, reveals three voices at the dog kennels on the family estate.
Witnesses said the three voices belonged to Maggie, Paul – and Mr Murdaugh.
Minutes after the video was taken, at around 8.50pm, prosecutors say Maggie and Paul were shot dead.
The two victims last appeared to use their cellphones at 8.49pm.
While he confessed to lying about being at the kennels – and confessed to stealing from his law firm and to orchestrating the bizarre botched hitman plot – he maintained his innocence in the murders of Maggie and Paul.
"I did not shoot my wife or my son any time, ever," he said.
Denial of responsibility! insideheadline is an automatic aggregator around the global media. All the content are available free on Internet. We have just arranged it in one platform for educational purpose only. In each content, the hyperlink to the primary source is specified. All trademarks belong to their rightful owners, all materials to their authors. If you are the owner of the content and do not want us to publish your materials on our website, please contact us by email – [email protected]. The content will be deleted within 24 hours.