Many genres of anime are action-oriented while others center around romance, but there are also plenty of great music-themed anime. As a medium, anime can provide lovely music but can also visually convey the characters' love of it, inspiring viewers to embrace music and maybe even pick up their own instrument.
Although the following series differ from one another, they all have one detail in common: showcasing the characters' passion for music. Viewers can not only get wrapped up in the story and visuals, but the music as well. Fans will have a hard time figuring out which instrument they want to learn after checking out these three titles.
RELATED: Pokémon Live! Doc Explores How the Short-Lived Stage Musical Became Lost Media
Sound! Euphonium Presents a Full Concert Band Music Experience
Perhaps the best-known of the three is Kyoto Animation's own Sound! Euphonium. From the studio that brought the world K-ON — another music-themed anime — Sound! Euphonium focuses on a high school concert band along with its main four girls: Kumiko, Sapphire, Hazuki and Reina. With so many members, there are lots of instruments to demonstrate and choose from.
Episode 2 finds the girls officially getting to pick out their instruments. Kumiko sticks with the titular euphonium, while Sapphire (also known as Midori) goes with her contrabass (also known as an upright bass). Hazuki, being the newbie, learns the tuba and Reina selects the trumpet.
RELATED: What Music-Inspired Anime to Watch After takt op.Destiny
Although the main cast of Sound! Euphonium is mostly brass instruments, there is still a wide variety of others seen among the other band members. This can give viewers a great breadth of instruments to experience and get inspired by while the show's intriguing plot focuses on a common high school band problem: whether they want to work hard and aim high to win the National competition, or just goof off and have fun with instruments.
While most people in the band outwardly say they want to work hard and be good, that is not how it always turns out. Just because they want to win the competition doesn't mean they're always willing to put in the work for it. Sound! Euphonium follows this dilemma and explores how students navigate high school band.
RELATED: Honeyworks: How to Get Started on the Music-Based Franchise
Kids on the Slope Spotlights Historical Jazz Music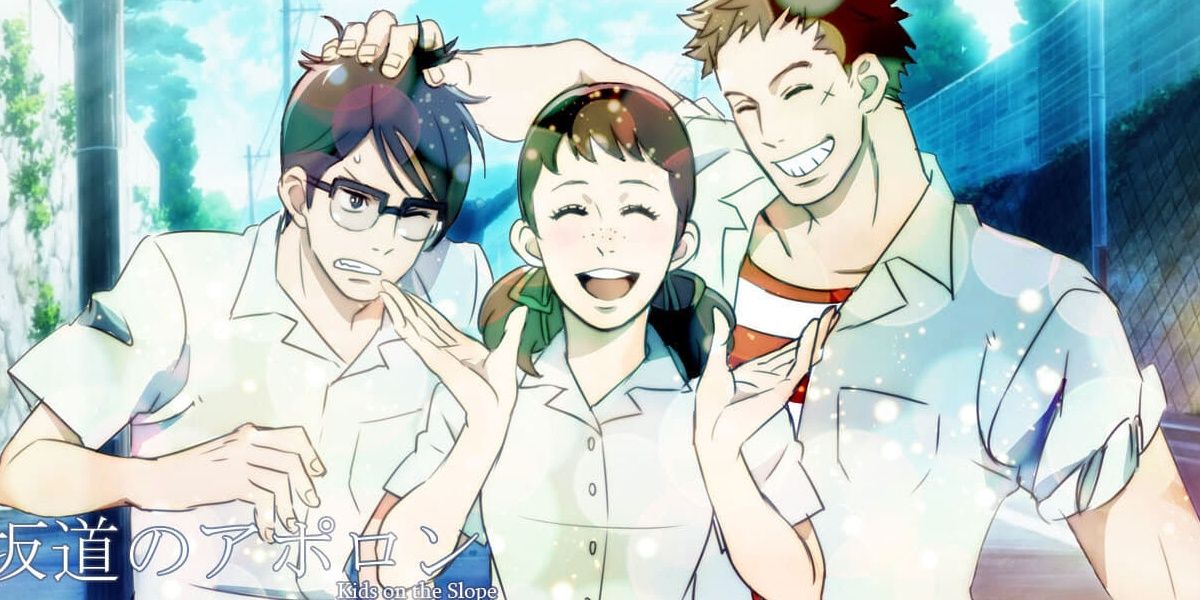 The next music-inspired anime, Kids on the Slope, is rather less discussed but still impressive in its own right. Although the manga began in 2007 with the anime arriving in 2012, the story itself takes place in 1966 Nagasaki, making this an interesting musical period piece.
Kids on the Slope follows three main characters: Kaoru Nishimi, a wealthy kid who just moved into town and plays classical music on the piano, Sentaro Kawabuchi — a known delinquent who loves jazz and playing the drums — and Ritsuko Mukae, Sentaro's childhood friend. Although they get off to a rocky start, the three become great friends and even bandmates as the story goes along.
The plot revolves around jazz and how its music affects the trio's lives as they explore and grow in their adolescence. Viewers get to experience the music through two different lenses. One is the experienced lover who has already honed his craft — Sentaro — and the other is through the fresh eyes of a person discovering jazz for the first time with Kaoru. With both Kaoru and Sentaro proving to be adept at their instruments, viewers get to readily dive into the good parts of music anime and hear the main characters jam together very early on.
RELATED: Carole & Tuesday: How to Get Started With the Anime & Manga
Given Combines BL Romance With Rock & Roll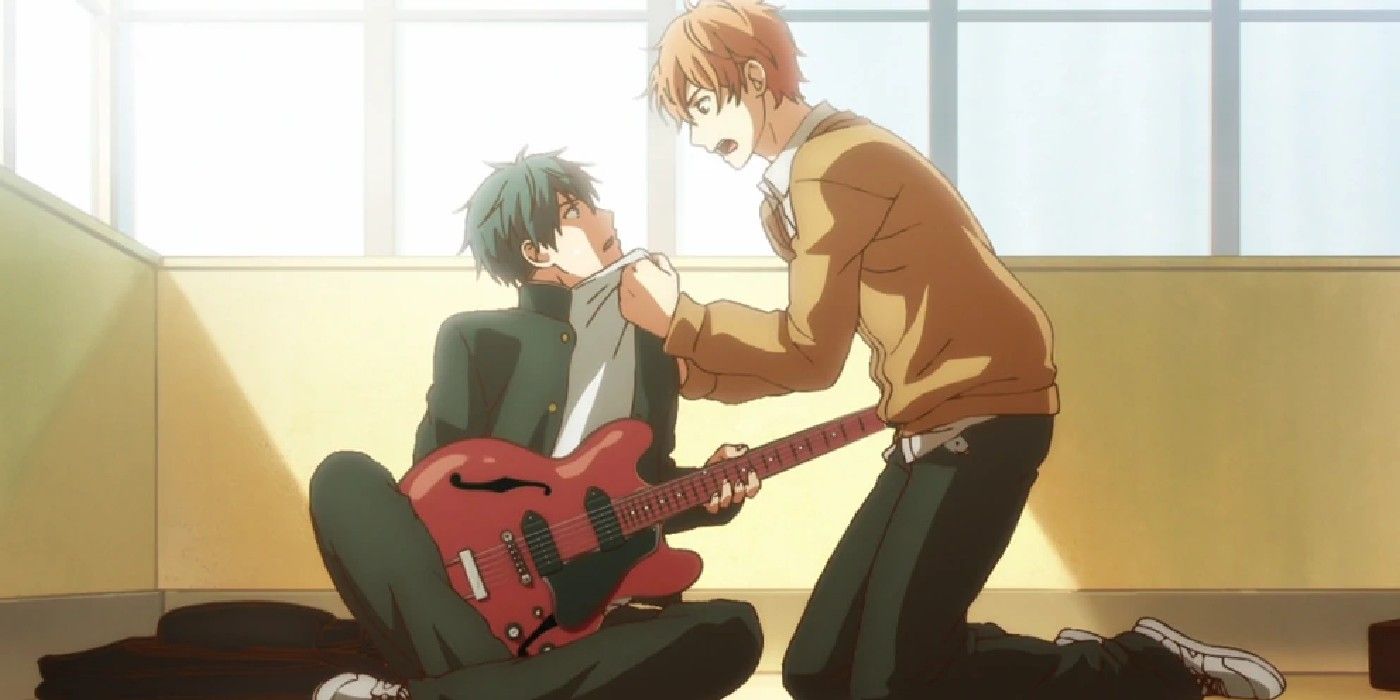 Given may be more on the common side as it follows a rock band, but it also stands out from the crowd in that it's a BL (Boys Love) anime. Just because there are heavy romance elements, however, does not mean Given ignores the music.
The story follows the main characters and love interests: Mafuyu Satou, a high schooler always clinging to his red Gibson guitar — even though he doesn't know how to play it — and Ritsuka Uenoyama, a punk who loves rock music and is in a band. After lots of pleading during a chance encounter on the stairs, Mafuyu would not only convince Ritsuka to fix his guitar, but also teach him how to play it.
Given then follows the whole band as Mafuyu and Ritsuka grow together, not only as musicians but as teenagers. With one of the main characters being a newbie to music and Ritsuka having to teach him how to play the guitar from the beginning, seeing Mafuyu's progress can inspire any viewer to pick up a guitar and start rocking.
The Best Anime Movies With Spectacular Visuals
Read Next
About The Author
Denial of responsibility! insideheadline is an automatic aggregator around the global media. All the content are available free on Internet. We have just arranged it in one platform for educational purpose only. In each content, the hyperlink to the primary source is specified. All trademarks belong to their rightful owners, all materials to their authors. If you are the owner of the content and do not want us to publish your materials on our website, please contact us by email – [email protected]. The content will be deleted within 24 hours.