If you bought a standing desk, chances are you're interested in the health benefits of, well, not sitting all day. Better posture, reduced back pain, and an increase in productivity due to a boost in mood and focus are among some of the top benefits of standing, according to a 2021 research paper published by the National Institutes of Health.
But without the proper equipment to support you while you're standing, there are some health drawbacks compared to sitting. Those who stand have reported an increase in leg and foot pain and vein issues, including varicose veins, the Canadian Centre for Occupational Health and Safety reported. Experts recommend having the proper support to mitigate pain issues and frequently switching between standing and sitting to maximize the ergonomic benefits while reducing the risk of injury. We've compiled some of the best accessories to help get you standing safely and ergonomically while you're working at your standing desk.
Anti-fatigue mats
Paired with comfortable, supportive sneakers, anti-fatigue mats help you take the pressure off of your feet, knees, and legs. When it comes to padded support for your feet, you'll want to look for a thicker mat—some mats start at just 0.5-inches thick while industrial mats can be upward of 1 inch in thickness—though the actual footprint of the mat doesn't really matter if you don't intend to move around too much. These mats can come in several different colors and patterns to match your decor or provide a pop of color to your workspace.
ComfiLife Anti-Fatigue Floor Mat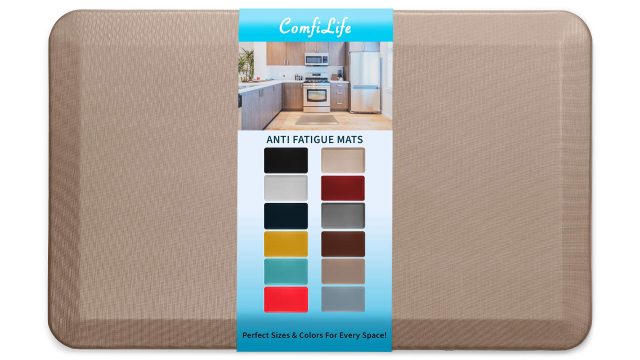 ComfiLife Anti Fatigue Floor Mat
One of the best options we tested was ComfiLife's Anti-Fatigue Floor Mat. Available in three sizes, with the largest option covering a footprint of 24×70 inches, these mats make it seem like you're standing on clouds. It comes with a non-slip bottom, making it safe for the office, and it's versatile enough to be used desk-side or in the kitchen, bathroom, or any place where you find yourself doing a lot of standing. A lifetime replacement warranty, stain-resistant cover with anti-microbial treatment, and three-fourths-inch high-density memory foam core make this the top option on our list.
The good
Very comfortable
Multiple size and color options
Softer foam than competing options
Versatile design can be used throughout the house
Lifetime warranty
The bad
Strong smell out of the box
Heavy weight makes it difficult to reposition for those with limited mobility
Flexispot DM1 Anti-Fatigue Mat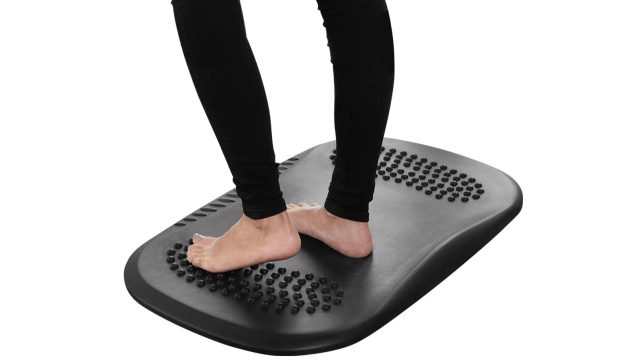 Flexispot DM1 Anti-Fatigue Mat
Another great option is Flexispot's DM1 Anti-Fatigue Mat. Like the ComfiLife, this mat's high-density polyurethane foam core provides excellent support, and its manufacturer advertises that the mat can help reduce fatigue and spinal and coccyx compression while promoting active standing. What sets this particular Flexispot mat apart is that it comes with molded beading on the left and right sides of the mat to help massage your feet and encourage blood flow while you work. Given the massage beads, this mat is more suited for barefooted users. The feel of the mat is also slightly firmer than the ComfiLife, and it's a matter of preference how much you want your feet to sink into your mat—I prefer the former's softer feel.
The good
Comfortable and soft feel when standing
Ergonomic beaded design at edges helps massage feet
Not as "intense" looking as topographically inspired mats
The bad
Strong smell out of the box
One-size-fits-all design
StarTech Anti-Fatigue Standing Mat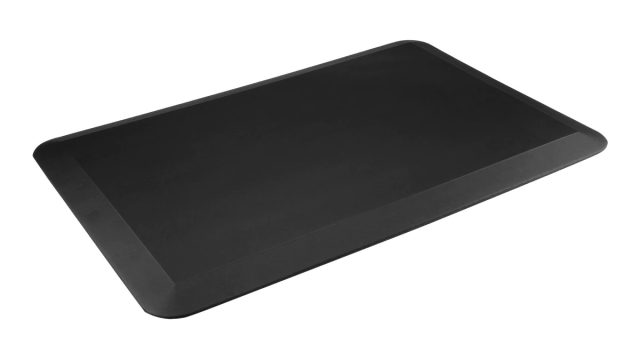 StarTech Anti-Fatigue Mat for Standing Desk
StarTech's Anti-Fatigue Mat for Standing Desk is a terrific option for those who want a denser, firmer foam anti-fatigue mat. There isn't anything inherently wrong with this mat—it's slightly thicker than the other options on our list at 0.7-inches thick, but I found that the denser polyurethane foam core is just slightly too firm to be comfortable for me during long standing periods. Again, this is a matter of preference. And like its competitors on this list, it comes with an anti-slip backing on the bottom, though I did find that the material is less grippy on my hardwood floors than the ComfiLife. But at $128, it's the most expensive option here.
The good
Comfortable to stand on for long periods of time
Versatile design can be used throughout the house
Thick construction for durability and comfort
The bad
Harder feel, but that helps to reduce wear on the foam
Heavy weight makes it difficult to reposition for those with limited mobility
Fluidstance Springboard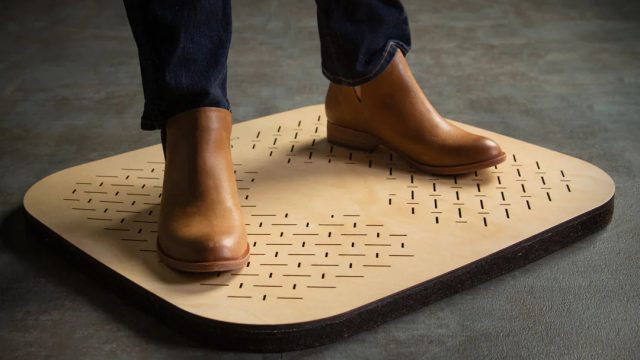 Fluidstance's Springboard is a beautiful alternative to the black, drab rubber anti-fatigue mats. Made for design-conscious home users, the Springboard is constructed with all-natural materials, including a wood-clad top surface, natural wool felt, and a non-skid bottom. True to the manufacturer's claim that you'll experience a subtle yet responsive bounce, standing on the Springboard is exactly how it sounds—it's a springy feel, and you can definitely notice the materials on the back compress and expand to help relieve tension. Although it looks beautiful, it's still not quite as comfortable as a standard anti-fatigue mat, and when paired with shoes with a comfortable sole, you'll get more support standing on the Springboard than if you were to stand on hard flooring.
The good
Very comfortable
Multiple size and color options
Softer foam than competing options
Beautiful design; can be used throughout the house
The bad
Doesn't provide as much cushion as traditional anti-fatigue mats
Ergodriven Topo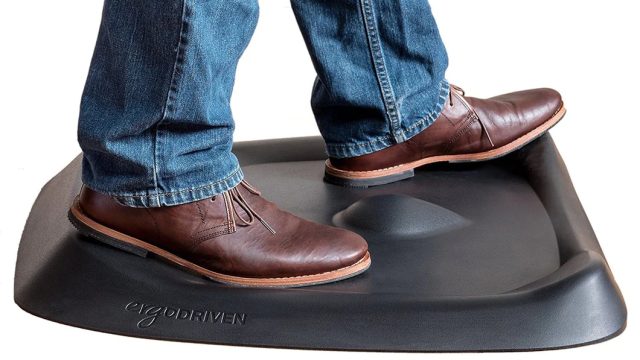 Ergodriven's Topo is the fidget-spinner version of an anti-fatigue mat. As its name implies, the Topo comes with exaggerated raised edges and a small bump near the center, which Ergodriven calls a "calculated terrain." The goal is to have you move your feet to different positions across the terrain, which will help with restlessness and encourage a bit of legwork and movement while you're standing. You don't need as much coordination as some of the core-building options on our list, and the mat delivers relief with its anti-fatigue foam construction. Given its topographic-inspired design, the Topo isn't as versatile as a standard anti-fatigue mat and may not look quite as elegant in the kitchen as the ComfiLife or Flexispot options on our list.
The good
Helps promote leg movement while standing
Unique design adds value to the standard anti-fatigue foam mat
Compact design makes it easy to reposition
The bad
Needs to air out—polyurethane material can smell bad out of the box
Not a replacement for walking or exercising
Can feel a little cramped
Denial of responsibility! insideheadline is an automatic aggregator around the global media. All the content are available free on Internet. We have just arranged it in one platform for educational purpose only. In each content, the hyperlink to the primary source is specified. All trademarks belong to their rightful owners, all materials to their authors. If you are the owner of the content and do not want us to publish your materials on our website, please contact us by email – [email protected]. The content will be deleted within 24 hours.