"We are helping coffee farmers take important steps toward independence and freedom," says the Saskatoon founder and CEO of Road Coffee.
Reviews and recommendations are unbiased and products are independently selected. Postmedia may earn an affiliate commission from purchases made through links on this page.
Article content
Alisha Esmail has always strived to make a difference in the world.
Article content
With a passion for people, Esmail says she remembers being drawn to global issues as a child when she learned other parts of the world didn't have the food security we take for granted in Canada.
Article content
"I, as a kid, would hear stories that the rest of the world wasn't like our world in Canada, that lots of people didn't have food or clean water … That would keep me up at night. That was just so unfair and so unjust to me," she recalls.
This passion led her to work on international development projects with non-profit organizations, where she got to know the needs of the people in countries like Haiti, South Africa, Nepal, Jordan and Panama.
Through that work — and prompted by a lifelong passion for coffee — she visited coffee farmers and saw the exploitation and poverty they faced.
Article content
"We have coffee farmers who produce the world's second-largest commodity … and a lot of them still don't have access to basic needs and struggle to provide for their families," she says.
"To me, that gap never made sense."
Determined to do her part to change the problems in the coffee industry, she returned to Saskatoon and founded Road Coffee Inc. in 2016.
"I actually am a firm believer now that business can solve a lot of the problems that we look to charities and non-profits to solve. I think we're creative, strategic people, and we can solve problems through business that are win-wins for everyone," she says.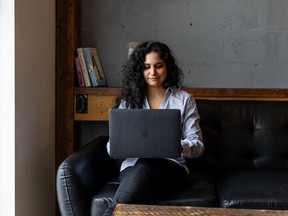 Working in Saskatoon, Esmail is proving global work can happen in Saskatchewan.
"I've always been a big proponent that Saskatchewan can play on a global field … I can be a global player and live in Saskatchewan," she says.
Article content
"I also believe we produce amazing entrepreneurs. And so I want to see this place continue to develop and grow so that people stay in Saskatchewan and move to Saskatchewan."
WORKING WITH FARMERS
In her position as CEO of Road Coffee, Esmail deals directly with the farmers, building relationships and ensuring they make fair wages.
"It's not just a project, it's not just a business. It's the people behind it that really make anything worth doing," she says.
She knows the farmers she works with personally and keeps in touch with them as much as she can throughout the process.
"We do have deep relationships with a lot of the people we work with … Everyone that we work with is really impact-driven and there to help farmers on a day-to-day basis," she says.
Article content
Esmail's friend and mentor, Sanj Singh, who is the CEO and founder of a pharmaceutical and development company, worked with Esmail to develop Road Coffee to ensure it stands out among its competitors.
"She's positioned herself head and shoulders above others because no one, that I know of, is paying farmers directly more than the cost of production per acre," he said.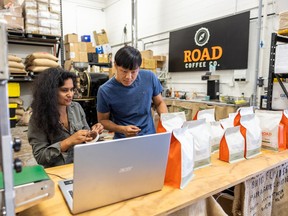 It's also essential to Esmail that Road Coffee works with female-run businesses, giving them more voice in the industry.
"We have multiple supply chains around the world, including three fully female supply chains — with Costa Rica, Peru and Kenya. And that specifically is really important because less than four per cent of export licenses belong to women."
Article content
A lot of the women in these communities are the breadwinners, she says, so their work is significant to their livelihoods.
"Getting them in powerful roles where they can control the price and actually get paid properly for their product is super important and has a huge effect on their family and community."
With travel available again after the COVID-19 pandemic, Esmail was able to visit a few farmers in the spring and see first-hand the impact her work is having on their lives.
"There's this one widowed mom, she's got six kids that she's raising as well as trying to run her coffee farm … This last year, she didn't have to choose between buying fertilizer or feeding her kids, which is a very real reality for a lot of coffee farmers. She was able to do both, so it was super cool to meet her in person and hear her story," she says.
Article content
TAKING STEPS TOWARD CHANGE
Seeing similar struggles among coffee farmers when they can't afford their supplies, Esmail recently introduced a microloans program through Road Coffee.
"They can't afford, No. 1, to pay for fertilizer. They have to decide between that and feeding their family. Or the climate has changed so much that the quality of their crops have gone down significantly," Singh says.
Farmers would go to large companies or co-ops that would loan them fertilizer at upwards of 30 per cent interest, Esmail adds, catching them in "predatory lending cycles."
"When harvest comes around, they aren't really paid much for their crop because they're just paying off the debt from the fertilizer."
The microloans program offers small loans at seven per cent interest, allowing farmers to buy what they need so they can avoid high-interest loans and create a more sustainable life.
Article content
"Cleverly, she collects her interest and her repayment through coffee as opposed to finances. So it really gives those farmers the opportunity to expand their operations without predatory lending," Singh says.
"With each cup of coffee, we are helping coffee farmers take important steps toward independence and freedom," Esmail adds.
RECOGNITION FOR CHANGE
For her work through Road Coffee, Esmail received the 2022 YWCA Women of Distinction Award for Entrepreneurship. The award recognizes women whose leadership has shown positive change for the community.
"She's somebody who has vision but is very good at actually taking action into it and moving in it, and I always admire that in her," says Esmail's friend Chantel Denie, who nominated her for the award.
Article content
"She puts herself out in spaces that are not always comfortable. But I think she does it because she is passionate for the people on the other side — the farmers and other people — to actually have a fair chance at things."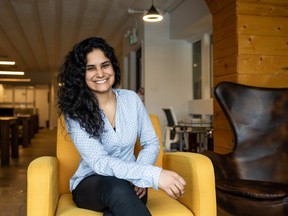 For Esmail, the recognition lets her know that she's not the only one who believes she's doing important work.
"My goal is to build wealth so that I can help more people. And sometimes that can be intimidating and scary, but we're doing it and we're making an impact … And for me, that whole (award) process, it really started shifting things and solidifying some of that confidence," she says.
Esmail is also working on a documentary about her journey in the coffee industry with Canadian director Jake Straat. The film will share her story, "following me as I journey through the industry and why I started it and what we're trying to do. And highlighting maybe some things that aren't working in the supply chain, because right now production is going down," she says.
Article content
Farmers are leaving the industry for more sustainable work.
"Farms around the world are being abandoned because parents want their kids to have a better life — just like my parents wanted for me, being first-generation Canadian. They want their kids to not live in poverty and have a future," Esmail says.
Though demand for coffee continues to increase, the supply chain makes it harder and harder for farmers to keep producing.
"So unless we really change the way the coffee supply chain works and make it more economically and environmentally sustainable, the way we have coffee readily available is going to change drastically in our lifetime," Esmail says.
Singh said a lot of people aren't aware of the problems in the industry, which makes Esmail's work especially important.
Article content
"I don't think anybody has an idea … what actually went into it for them to enjoy that cup of coffee that they don't even think about — the toils, the sacrifice," he says.
While there's a lot of work left to do, Esmail says she hopes to finish the documentary in the next year or two.
"I like to get things done, but we've also got to trust the process, is what I've been learning, which is hard for me."
Her goal with the documentary — and with Road Coffee — is to raise awareness and highlight possible solutions.
"It's definitely not a doom and gloom kind of documentary. We definitely want to communicate hope and some of the amazing people around the world who are doing things to bring change and make an impact," she says.
Article content
Mike Tanton mentors Indigenous youth through love of basketball

Adrianne Vangool encourages compassion and self-care with new book

'Dancing is healing': Courtney-Dawn Anaquod models mental health through Métis jigging

No ordinary bake sale: Humboldt teacher Erika Rybinski raises thousands for local charities
The news seems to be flying at us faster all the time. From COVID-19 updates to politics and crime and everything in between, it can be hard to keep up. With that in mind, the Saskatoon StarPhoenix has created an Afternoon Headlines newsletter that can be delivered daily to your inbox to help make sure you are up to date with the most vital news of the day. Click here to subscribe.
Denial of responsibility! insideheadline is an automatic aggregator around the global media. All the content are available free on Internet. We have just arranged it in one platform for educational purpose only. In each content, the hyperlink to the primary source is specified. All trademarks belong to their rightful owners, all materials to their authors. If you are the owner of the content and do not want us to publish your materials on our website, please contact us by email – [email protected]. The content will be deleted within 24 hours.