In the weeks since the disastrous Norfolk Southern train derailment on Feb. 3 in East Palestine, Ohio, experts have sounded the alarm about the likelihood that dioxins — a family of extremely toxic compounds — were released into the environment when authorities intentionally burned onboard chemicals to prevent a potentially massive explosion.
In response to growing public pressure and concern, the Environmental Protection Agency announced Thursday that it will require Norfolk Southern to sample for this class of pollutants.
"This action builds on EPA's bipartisan efforts alongside our local, state, and federal partners to earn the trust of this community and ensure all residents have the reassurances they need to feel safe at home once again," EPA Administrator Michael Regan said in a statement.
Many have celebrated the announcement as a step in the right direction.
"This is why we organize," River Valley Organizing, an Ohio community nonprofit, wrote on Twitter. "Coming together and demanding action is the only way we will create change and get what our community needs."
But others have serious concerns about letting Norfolk Southern, the company responsible for the environmental disaster, lead the search for dioxins — especially after Ohio officials relied on a railroad contractor's flawed water sampling to initially declare the village's municipal water safe to drink, as HuffPost first reported.
Sri Vedachalam, a water policy expert whose work includes public trust and communications, told HuffPost that although he could see a reason to involve Norfolk Southern in the dioxin testing because the company knows the chemicals and materials involved in the accident, "the optics of trusting their process enough to hand over testing of a dangerous chemical are bad."
"A fox guarding the henhouse!" he said.
Ross Grooters, a longtime locomotive engineer and co-chair of Railroad Workers United, wrote on Twitter that dioxin testing "needs to be completely independent of Norfolk Southern."
"We cannot trust the railroad in this matter, especially after concerns have already been raised about sloppy water quality testing," Grooters wrote.
"The optics of trusting their process enough to hand over testing of a dangerous chemical are bad."

– Sri Vedachalam, water policy expert
Ohio Gov. Mike DeWine (R) and the Ohio EPA have faced scrutiny over Norfolk Southern's involvement in testing the water in East Palestine — and state officials have given contradictory statements about what data it had when it declared the water safe to drink on Feb. 15.
The nearly 2-mile Norfolk Southern train was passing through East Palestine, a town of approximately 5,000 people on the Ohio-Pennsylvania border, when 38 cars careened off the tracks and caught fire. Of the 50 train cars that either derailed or were damaged in the resulting fire, 20 contained hazardous material. The primary concern has been the hundreds of thousands of pounds of vinyl chloride, a common organic chemical used in the production of plastics.
Vinyl chloride has itself been linked to several types of cancer. But it is what happens when vinyl chloride is burned, as it was three days after the train wreck, that has residents particularly terrified.
While the so-called "controlled release" may have prevented an explosion, it released black clouds of phosgene, hydrogen chloride and other gases into the air. Phosgene was used as a chemical weapon during World War I, and exposure to it can cause vomiting, eye irritation and difficulty breathing.
Then there's the threat of dioxins, which are known to form when chlorinated chemicals like vinyl chloride combust. Exposure to dioxins is linked to numerous serious and potentially deadly health problems, including cancer, developmental and reproductive problems, immune system damage and hormone disruption. The chemicals are what's known as "persistent organic pollutants," meaning they take a long time to break down in the environment, and can accumulate in the food chain.
"There is no question that dioxins were formed in the vinyl chloride fire," Stephen Lester, science director at the Virginia-based Center for Health, Environment and Justice, wrote in an opinion piece in The Guardian on Thursday. He argued the decision to burn off vinyl chloride should have immediately triggered widespread dioxin testing.
EPA officials initially resisted calls to look for this class of toxic chemicals. It would be hard to connect any dioxins detected in the community to the derailment, Debra Shore, the administrator of EPA Region 5, said Monday at a news conference.
"We don't have baseline information for dioxins," Shore said. "They are ubiquitous in the environment. They can be caused by wildfires, by backyard grilling, by a host of other normal activities in human life. Without that information, it would be hard to attribute any level to the derailment."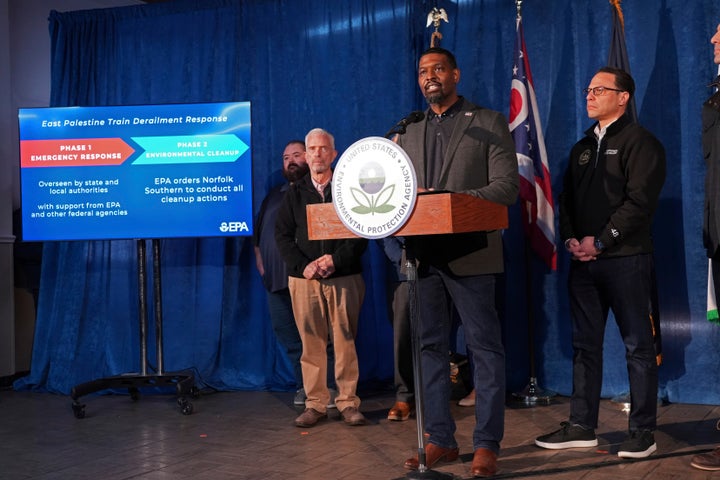 Experts have criticized EPA's explanation about the challenges of connecting any dioxin contamination to the derailment. Among other things, they pointed out that the most toxic dioxin — Tetrachlorodibenzodioxin, or TCDD — is covered under the Safe Drinking Water Act.
"No matter the source, derailment or no derailment, #EastPalestineOH residents should be made aware of any dioxin in their drinking water," Nicole Karn, a chemist and associate professor at the Ohio State University, wrote in a post to Twitter.
Karn told HuffPost that any number of dioxins could have been produced during the incineration of chemicals on board the train.
"To form dioxins you need a source of carbon and a source of chloride — both of which are in vinyl chloride," she said via email. "I think we also need to consider that 'polyvinyl' was listed on the cargo and was burned as well. I imagine that this is polyvinyl chloride (though can't be sure from just the list of cargo on the train). Certainly dioxins are a combustion product of PVC."
Tasking Norfolk Southern with conducting the dioxin testing is a "bad decision" in terms of public perception, even if the sampling proves to be scientifically sound, Karn said.
In its announcement Thursday, the EPA said that if unsafe levels of dioxins are detected in the area, it would disclose that to the public and order Norfolk Southern to immediately clean them up. It also is requiring the railroad to conduct a background study to determine how dioxin levels at the derailment site compare to nearby areas.
It is unclear how frequently testing will be conducted.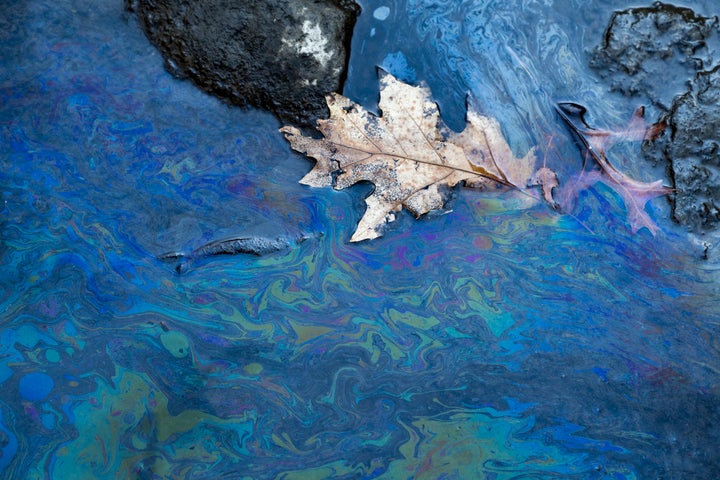 The EPA defended its decision to let Norfolk Southern lead the testing effort, noting that an order Regan signed last month gives the agency full oversight of the company's clean-up activities.
"EPA will review every aspect of the plan to ensure that it is as protective as possible. If the company's plan does not meet EPA's stringent requirements, EPA will modify the plan – and these modifications then become an enforceable part of the order to ensure all work is done to the highest and most protective standards," an EPA spokesperson said in an email. "If the company fails to complete any actions as ordered by EPA, the agency will immediately step in, conduct the necessary work, and then force Norfolk Southern to pay triple the cost."
Norfolk Southern did not immediately respond to HuffPost's request for comment.
In mid-February, two weeks after the derailment, Ohio Sens. Sherrod Brown (D) and J.D. Vance (R) wrote to the directors of the U.S. EPA and Ohio EPA to request immediate and long-term dioxin testing in and around the crash site.
"We are concerned that the burning of large volumes of vinyl chloride may have resulted in the formation of dioxins that may have been dispersed throughout the East Palestine community and potentially a much [larger] area," the senators wrote.
In a response letter Thursday, Regan and Ohio EPA Director Anne Vogel detailed the new testing mandate for Norfolk Southern and noted that state and federal agencies have been sampling for so-called "indicator chemicals" that would signal a potential release of dioxins from the derailment.
"To date, EPA's monitoring for indicator chemicals has suggested a low probability for release of dioxin from this incident," Regan and Vogel wrote.
Denial of responsibility! insideheadline is an automatic aggregator around the global media. All the content are available free on Internet. We have just arranged it in one platform for educational purpose only. In each content, the hyperlink to the primary source is specified. All trademarks belong to their rightful owners, all materials to their authors. If you are the owner of the content and do not want us to publish your materials on our website, please contact us by email – [email protected]. The content will be deleted within 24 hours.