Small world
And here was the chair of the International Rugby League, Troy Grant, on Qatar throwing its hat in to host the Rugby League World Cup, after France pulled out essentially due to a lack of interest.
"I haven't looked at the temperatures there," Grant said. "But ours would be slightly earlier than the football, so seasonal conditions would be tough, I'd imagine. They're the kind of factors we need to consider. We've no due diligence to give any expression of interest their due course of credit. We haven't made any assessment in regards to the viability of them."
Can we face facts, Troy, my man?
I honestly don't mean this unkindly, but the Rugby League "World Cup" is, and always has been, a farce.
Oh do stop carrying on, my league friends. What serious World Cup gets called off in this manner? Is there any precedent in any other World Cup where the host country pulls out like this due to lack of interest?
And now there is a move to hold it in Qatar? Please.
At least when they held the Soccer World Cup there, the locals were into the game. I don't think even league could claim Qatar as nutters for the 13-man game.
League is a great game, no problem. But pretending it is a global game worthy of having an actual World Cup fools precisely no one and does the game no good service.
Ponga head-scratcher
The case of Kalyn Ponga just gets more confusing.
As discussed, I accept the NRL and all of its professionals followed all protocols in allowing him back on the field last Saturday after suffering what seemed, to my layman eyes, and some expert eyes from a distance – without being able to examine him – like a concussion. What I am still waiting for is an explanation from the NRL on what it actually was, if not concussion? I put out the call for an explanation, only to be greeted with radio silence. Still, I guess it must NOT have been concussion, as it would be unthinkable to put a player with such a troubled history of recent concussions back out there, if he has just suffered another one.
But wait! My confusion deepened further with the news, first, that one of the factors in him being left out of the Queensland Origin side was because Billy Slater felt a duty of care to him, after his recent history of concussions. Given how brilliant Ponga's form was just two weeks ago, we can only assume Slater himself was troubled by what he saw last weekend, or his earlier concussions.
And yet?
And yet, despite Slater leaving him out partly because of what he described as his duty of care, Newcastle picked Ponga to play this weekend. They clearly have different standards.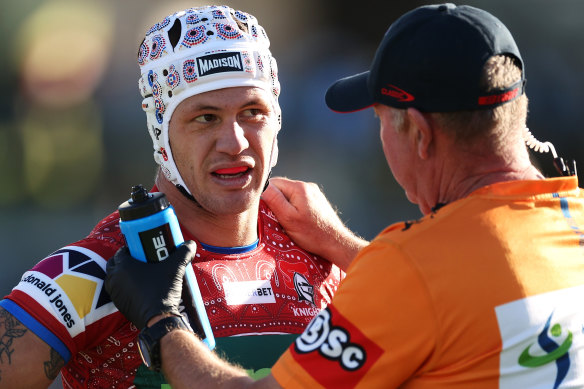 In sum, there was no concussion, so he played on last weekend, but the Queensland coach decided he can't play for Queensland because he feels there is a duty to look after him in light of recent concussions, but he can play for Newcastle because there was no concussion last weekend and no likely ramifications.
I am going to have a good lie down.
It would be funny, if the potential consequences were not so devastating. But, as discussed, I accept the protocols were all followed. Perhaps, we might look again at the efficacy of such protocols, and see if they might be tweaked?
Dragons denouement
The French expression is "tout nouveau, tout beau": basically, the moment you make a change and everything is new, everything also seems beautiful. It most particularly applies when sporting teams change coaches midstream. There is nearly always a surge in performance as players react positively to a new way of doing things. It doesn't mean every struggling team should immediately change coaches. It does mean you can set your watch by the immediate improvement that becomes apparent – even if it is usually temporary as the deep-seated problems reassert themselves.
I refer, of course, to the Dragons. After losing six matches in a row, they sacked coach Anthony Griffin last week and won on the weekend, defeating the Roosters. Happens, nearly every time! But then, the denouement: on Thursday evening, another thumping, as the ingrained problems return. Watch Richmond this weekend and next, with their own new coach, to see if it happens again.
RIP Dr John Yeo
Australian sport and medicine lost one of the greats last week with the passing of Dr John Yeo, 90, a giant of spinal rehabilitation after severe injury, and one of the prime movers behind the establishment of the first dedicated spinal unit in Australia, at Sydney's Royal North Shore Hospital. Countless Australians are alive today, and more free of wheelchairs, because of his legacy. Many sportspeople were able to continue playing, despite a bad injury. One of them was Andrew Johns.
"When I saw Dr Yeo it was a terrifying time," Johns told me this week after I informed him of the medico's death. "The extreme pain of nerve pain coming from my neck scared me so much. I thought my career was over. I was 28 at the time. But the moment we spoke and he treated me, I was at ease. He just had a presence and a manner that made me feel safe.
"He was extremely positive I could get back playing. I ended up playing another five years. He was a great man I will never forget how he saved my career. Sad to hear his passing, he has left an unforgettable legacy."
Vale, Dr Yeo.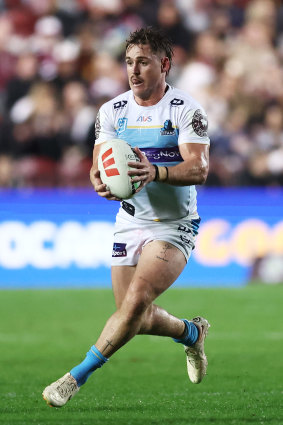 What they said
Matthew Johns, on brother Andrew's joke that Matty played only four Origins, for four losses: "That's his one joke. That's what he goes with every time. Well, my counter is that God doesn't give you everything – have you heard yourself commentate?"
The Titans' AJ Brimson on SEN's Captain's Run podcast talking about his hamstring injury: "It's never happened to me before, now it's happened twice, so hopefully it's a one off."
The highly regarded @LadiesWhoLeague on Twitter – the social media voice of women supporters of league – at the news that Jack de Belin has been made captain of St George: "I honestly could not care less what the reason is, if Jack de Belin is the person you think most displays leadership qualities at your club, the coach was the least of your problems."
Tim Sheens on Luke Brooks' online critics: "People on Twitter giving him grief, as far as I'm concerned, can take their Twitter and shove it."
Mitchell Starc on "Bazball", named for the damn-the-torpedoes-full-speed-ahead way that England coach Brendon "Baz" McCullum has them play: "It's still cricket and there are three stumps at either end. You still need to take 20 wickets to win a Test. They might score a bit quicker than we do, but there's no reason our batting line-up can't score the amount of runs they do. It's going to be fascinating to be a part of. I think there's a lot of people interested to see how it pans out. At the very least, it's going to bring eyeballs to screens, and that's what cricket wants and needs."
Titans coach Justin Holbrook after his side snatched defeat from the jaws of victory: "That's the way I'm feeling. We again found a way to not win a game. We did everything right. I said it last time, you don't lead 14-0 and not know what you are doing. We are just finding ways to come unstuck and we did it again." After that 14-0 lead, the Titans ended up losing 20-18. The spirit of the North Sydney Bears lives on!
Rafael Nadal as he announces next year will be his last, if he makes it that far: "I don't like the word but I feel strong enough to say it: I don't think I deserve to end like this. I've worked hard enough throughout my career for my end not to be in a press conference."
Bryson DeChambeau after a fellow LIV player, Brook Whatsit, won the US PGA Championship: "It validates everything we've said from the beginning: that we're competing at the highest level and we have the ability to win major championships. I really hope people can see the light now that we're trying to provide the game of golf with something new and fresh." Mighty big of you, Tex. Nothing to do with squillions of blood money, it was all about offering something "new and fresh". Shoot me!
DeChambeau again: "I've always said the truth will come out eventually. Truth always plays its way out, and it is. We've got a lot of great players out there, and I think people need to start looking at the brighter side of things that we're trying to do something good for the game." You again? Will you NAFF off!
Sea Eagle Tom Trbojevic: "People think I'm fast because my nickname is 'Turbo'. My nickname comes from my surname. I'm nowhere near as quick as some of the top [sprinters] in the game."
Richmond coach Damien Hardwick going out with a Michael Clarke in the pike position: "If I couldn't give this playing group, this club, these people beside me, the very best of Damien Hardwick, I wasn't prepared to see it out."
Team of the Week
Collingwood. Top of the table, and in absolute cruise control. Only way from here is down.
NRL. As we enter the Origin period, no fewer than six teams are level on points at the top of the table.
Rafael Nadal. Hasn't played since the Australian Open and announced next year will be his last. So goes the second of the big three and soon there will only be Novak Djokovic.
Loading
Manchester City. Won the EPL for the fifth time in six seasons, overcoming Arsenal, which was the real story. Arsenal lost just three times in their first 32 matches this season, but have lost three of their past five.
RIP Brian Booth. Australia's 31st men's Test cricket captain, died aged 89. Also represented Australia in hockey at the 1956 Melbourne Olympics.
RIP Tina Turner. I know it. You know it. I have to say it, 'cos it's true. Simply the best.
Sports news, results and expert commentary. Sign up for our Sport newsletter.
Denial of responsibility! insideheadline is an automatic aggregator around the global media. All the content are available free on Internet. We have just arranged it in one platform for educational purpose only. In each content, the hyperlink to the primary source is specified. All trademarks belong to their rightful owners, all materials to their authors. If you are the owner of the content and do not want us to publish your materials on our website, please contact us by email – [email protected]. The content will be deleted within 24 hours.