In a former casino on the outskirts of Edinburgh, ex-Grand Theft Auto producer Leslie Benzies is readying his next big gamble: a creation-fuelled game platform with blockbuster experiences built in. It's called Everywhere, and seems almost too ambitious; a constructed attempt to beat the likes of Fortnite and Roblox at their own game, with the horsepower of big budget game development under its hood.

The stakes are high. Everywhere is the long-awaited debut from Build a Rocket Boy, the company Benzies set up six years ago after his acrimonious exit from Rockstar, and the project he and other GTA veterans have been quietly building ever since. Fuelled by investment from NetEase, Build a Rocket Boy now has more than 400 staff building various bits of Everywhere, housed in multiple sites across Edinburgh, Budapest, Montpellier and in China. The current plan is to have Everywhere publicly playable at some point later this year.

You may remember Everywhere from its rather nebulous unveiling at Gamescom last year – when it was teased via a brief trailer that did little to explain what it actually was. Following that, rumours swirled suggesting it would contain cryptocurrency and NFTs – something Benzies and his team now flatly denies. So what exactly is Everywhere? After a day inside the studio, I still have questions. Lots and lots of questions. But they are different questions now – more hopeful ones, I think – than those I went in there with.

Through presentations and live gameplay demos and then an extensive round of Q&A, I can tell you that Build a Rocket Boy is in fact building two distinct experiences. There is Everywhere, the project's main social hub-meets-mini-game platform which feels closest to Fortnite's Creative mode, accessed via a more advanced version of PlayStation Home. And then there's MindsEye, an episodic AAA project to be released within Everywhere itself, which is set to feature what looks like a loopy sci-fi story and proper mo-capped cutscenes.

These two experiences are intrinsically tied together, as MindsEye will exist exclusively as an experience within Everywhere in a similar way to how Fortnite's original Save the World portion sits alongside its battle royale and player-made offerings. The impression I got was that MindsEye would likely be a premium experience, whereas Everywhere would be free to play around with, but Build a Rocket Boy remained determinedly tight-lipped on the subject of monetisation when I asked.

Regardless, whether you're playing the experience made by Benzies' big team of developers or those made by fellow users, you still load up the same client. The most impressive moment in the Everywhere demo I was shown involved a trailer for the first episode of MindsEye being broadcast in a virtual theatre environment. Here, the player is able to walk up to the cinema screen, then jump in to start playing. Within a few seconds, the MindsEye experience had loaded and, instead of our customisable avatar, we were now playing as MindsEye's protagonist, who began the snippet of gameplay being strapped down to a bed.

But let's backtrack to Everywhere, which deserves some further explanation. This experience is presented as a Ready Player One meets PlayStation Home hub area named Utropia – a vast 3D space occupied by your avatar and those of other players, with quick access portals to a curated selection of Everywhere's user-created mini-games, plus areas designed to hopefully one day host virtual concerts and video premieres. Different areas of this hub world offer specific types of mini-games, with shopping mall-esque spaces devoted to showcasing off the combat and racing genres, as well as actual shopping areas dedicated to purchasing avatar customisation options using a premium currency, or new user-created content bits – "Arcs" – via a currency you earn in-game. Finally, beyond the Utropia city hub, I was told there were further areas to explore – via four biomes themed around a forest, grassland, lava fields and a desert.

Everywhere's user-generated content creator "Arc-adia" offers the ability to create mini-games with relative ease using a gallery of pre-fabricated assets and Arcs you acquire from the Utropia hub. These assets can be edited on the fly and tested out within seconds, making for a powerful map maker that can also be imbued with game logic. All of this means you can build platforming experiences with Portal-esque puzzles or Zelda-style dungeons with traps and secrets, as well as more basic creations like Mario Kart lava racetracks. Elements of these can all be shared and turned into Arcs for use by others, spreading your creativity further. Once published, you can feature your builds via portals from your own personal mini-hub world, or if popular enough, see them showcased in the Utropia hub.
"We want to give them the tools to build these super high-end, AAA-type experiences."

For younger players who dabble in Minecraft or Roblox content creation, Everywhere is being pitched as the place you might move onto next in order to make better-looking and more complex experiences powered by Unreal Engine, via Everywhere's flexible creative tool suite which Build a Rocket Boy has layered on top. I can see the attraction of being able to examine and pull apart other people's Arc creations, to learn from them, and then to ultimately build upon them yourself.

"We're trying to make more than a video game here," Benzies says. "We believe the world of games is changing. I always find the word game underwhelming for what's actually happening in the industry. We're trying to make a place where people can come to play, where they can build, and where they can share their experiences. When you ask the younger generation these days what they want to do when they grew up – [and where] I would have said train driver, fighter pilot, doctor – a lot of the younger generation now say 'make video games'. And so we're taking that responsibility, we think it's our job to allow players to do that… We want them to build what they want to build, we want them to own it, and we want to give them the tools to build these super high-end, AAA-type experiences."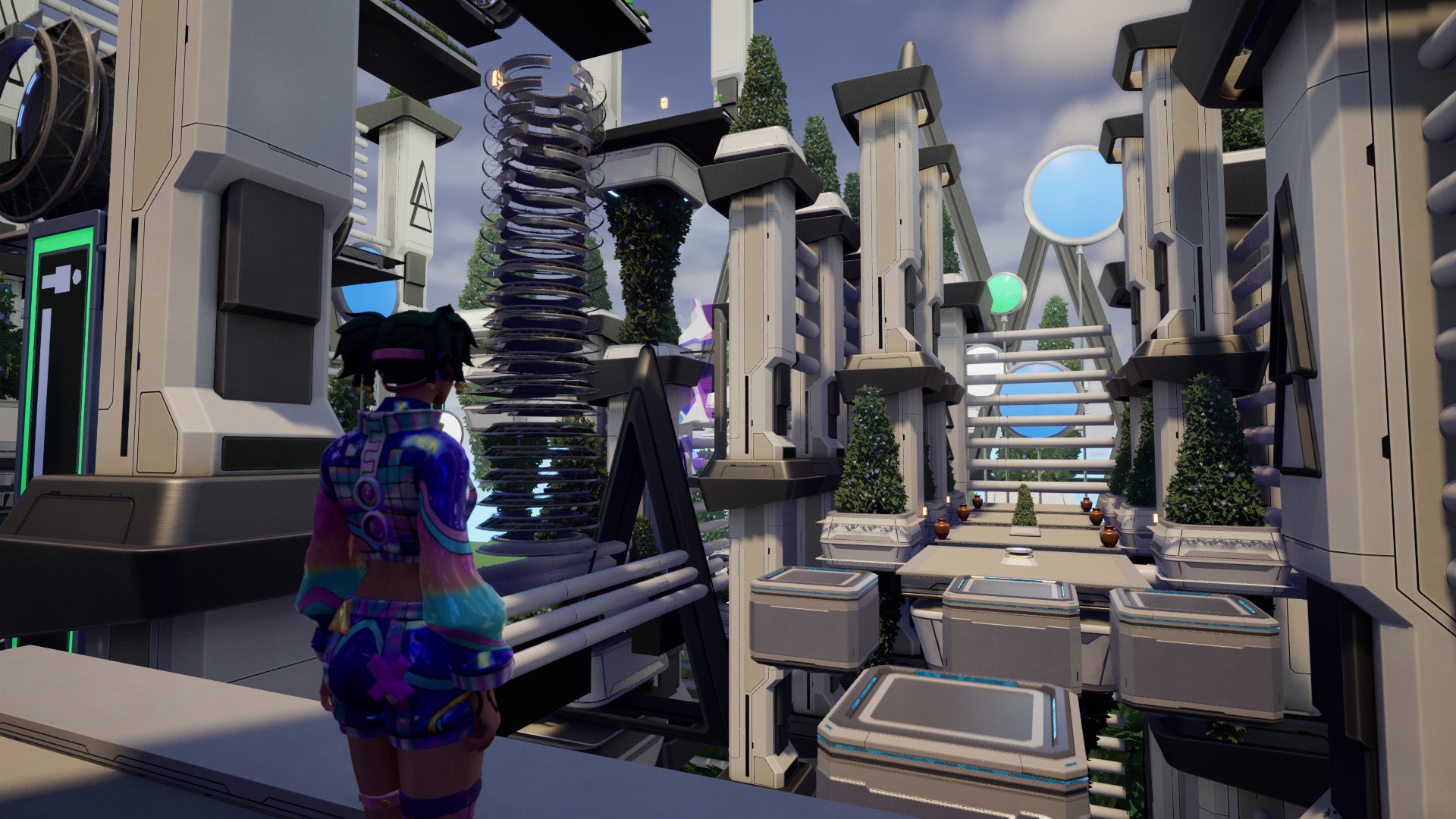 From conversations with various Build a Rocket Boy staff, it feels like there's a definite desire to be a different kind of creative experience, too: one which may not offer the motion-capture possibilities on show in the platform's MindsEye portion, but which still has ambitions of AAA. Speaking with Everywhere's audio team, for example, I was given a demo of how the platform handled sound in all of its user-created experiences, via a set of systems which built upon the flexibility of Unreal Engine using Build a Rocket Boy's own resources to automate audio effects which might otherwise need programming by the user themselves.

Plenty of user-created content modes let you set the time of day, for instance, with a different soundscape depending on whether you set a map to feature daylight or night. In Everywhere, however, I was shown how the game's soundscape reacted dynamically as the user cycled through the hours, or how bird sounds would cease if you fired your gun. Everywhere's Arc-adia editor is being designed to take these considerations into account to raise the quality level of creations without added fuss for the user, down to simulating the right sound effect reverb for a close-quarters cave environment you might have cobbled together in a couple of seconds.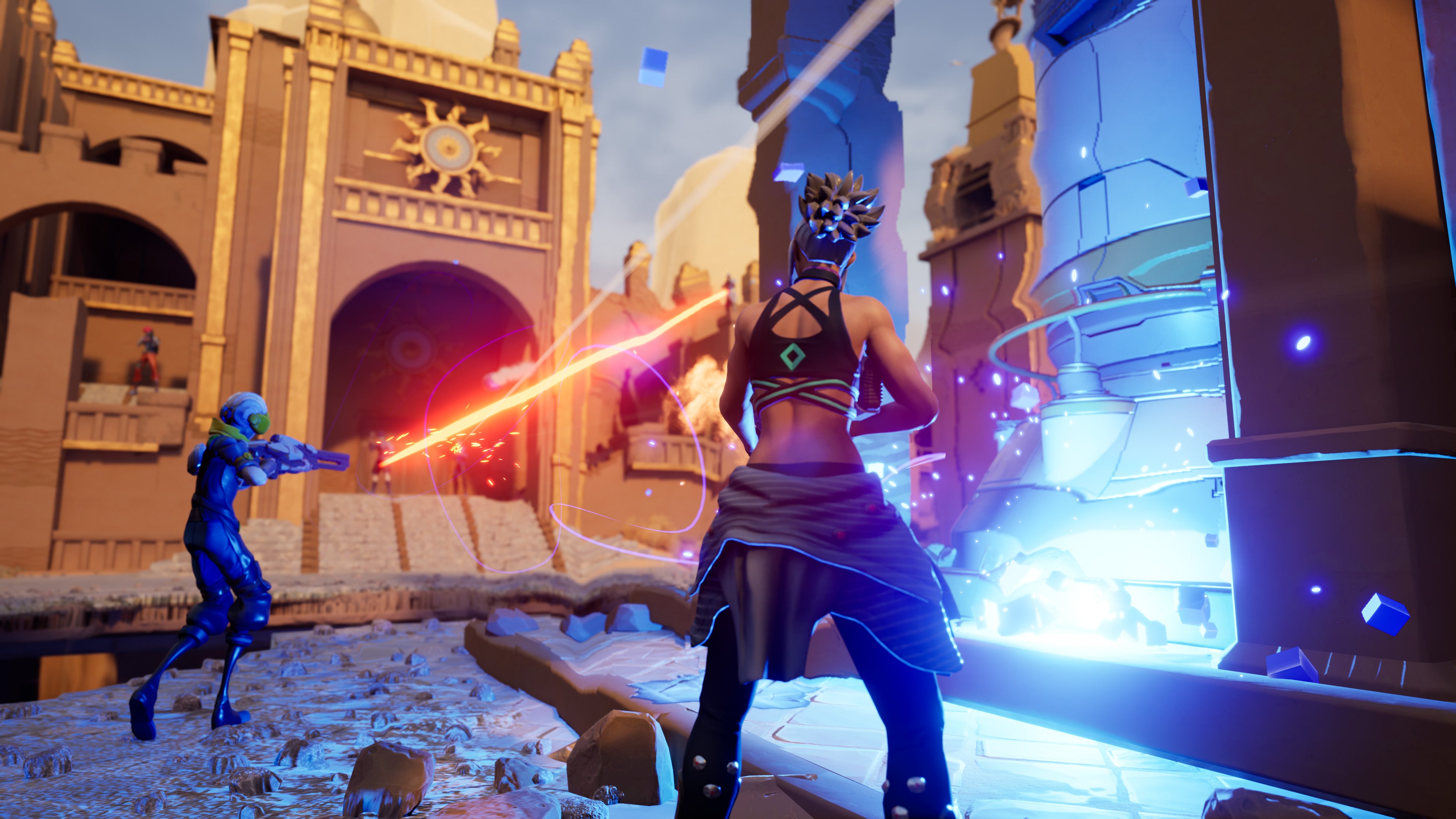 Despite all this, there's still a real distinction to be made between the kind of quality on show in Everywhere's user-created capabilities and that of MindsEye – a project which Benzies himself admitted exists so that Build a Rocket Boy can show off. This is a proper AAA performance capture-filled narrative experience, of a kind you won't be able to build yourself in Everywhere's creative offering. It is Benzies and his studio showing off their AAA game development heritage, and a handy hook to get people inside Everywhere itself. And to keep people hooked? Well, MindsEye is designed to be episodic, with each slice offering its own experience while serving a larger story set across different genres and time periods – and possibly even galaxies.
"We don't want this company to turn into a sequel company – [where] we make the same thing again, but it's prettier and it's faster."

"We've got a bunch of episodes planned, we know what we're going to do with that. Each of the episodes will be of a different type of gameplay," Benzies says, adding that the first episode in particular is very cut-scene heavy, something which will not necessarily be the case in future episodes which sound like they will be focused more on multiplayer experiences, co-op and replayability. A snippet we were shown suggested the action would take place in a post-apocalyptic future, as two characters reconnected in what looked like an underground bunker.

Are these episodes part of one ongoing story, or discrete experiences? I ask Benzies, who chuckles as he replies: "Yes." It sounds like a bit of both. "They're connected, but not," Benzies continues. "There's one overarching story for the whole thing, but they take place in lots of different time periods and parts of the universe. There's a thread between them, but it gives us some kind of flexibility.

"Everywhere is for players, MindsEye is kind of, for us – for our egos. We don't want this company to turn into a sequel company – [where] we make the same thing again, but it's prettier and it's faster, and it's more of the same. Each of our episodes allows us to be creative. Just from experience, building the same thing bigger and better all the time, it's exciting but you need to keep your team engaged. You need to have new gameplay for them, but also new gameplay for players."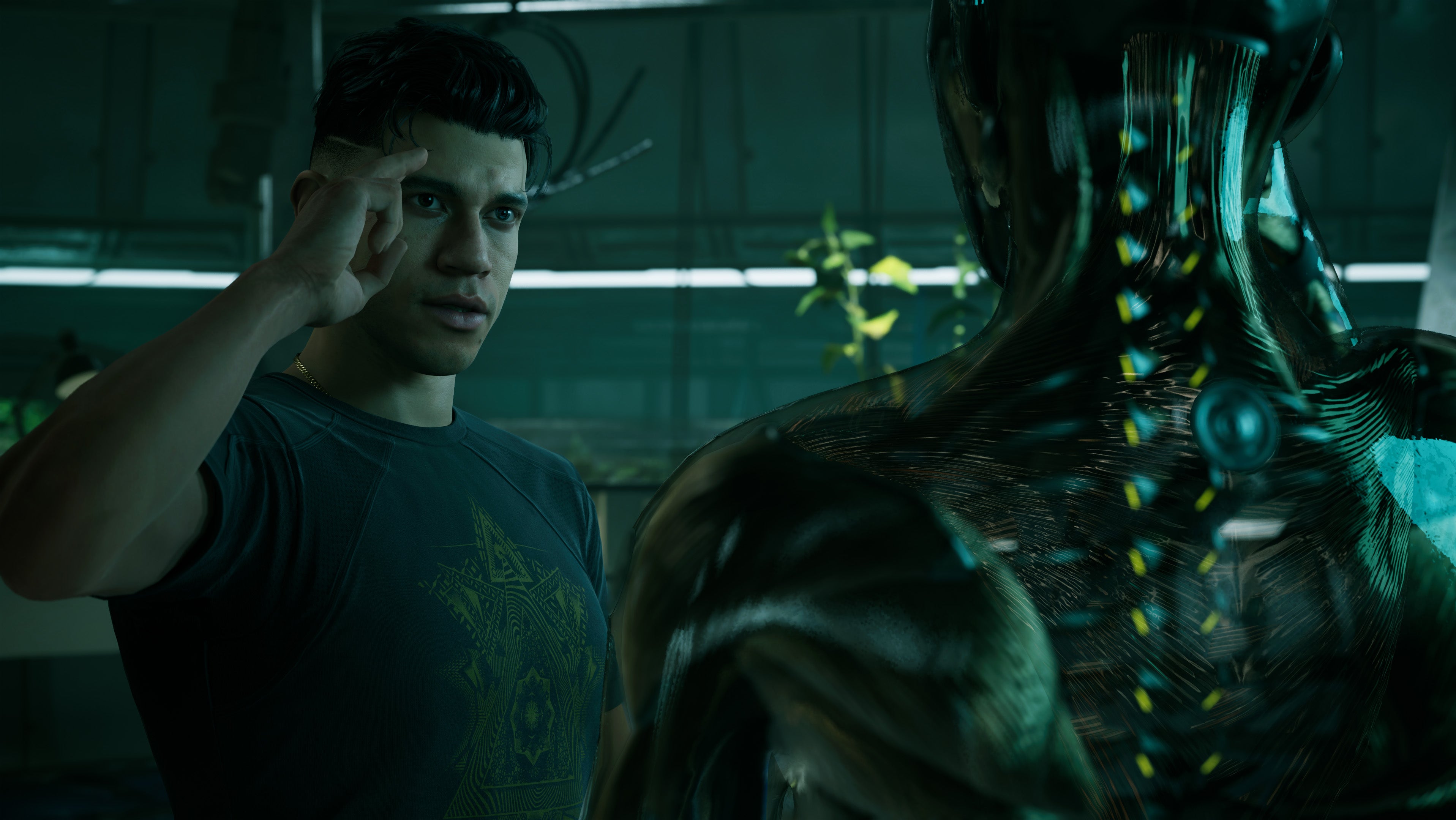 The release of each MindsEye episode will see content from it then become available within Everywhere to play around with yourself. "Anything you can't do at launch, it's on the roadmap," assistant game director Adam Whiting adds. "We've got big plans for it, and ultimately the big ambition is to modularise the tools we've used to make things like Mind'sEye, and then give them to players so they can make really awesome cinematic immersive experiences." Does it need to be a game, then? No, Benzies says. "Our guys over in China created a little karate film, for example. You can build a lot of different things."

So, that's what Everywhere is – but how about what it isn't? It's a concept which others might call a metaverse – but Benzies told me the studio wasn't keen on the term. "It's a lot of things to a lot of different people," he told me. "I've seen tiny little mobile games [describe themselves as] a metaverse and I'm not sure they are… We don't really call ourselves a metaverse, and I think if you were to, [then] games have been metaverses for a long time. We try to shy away from that." Various developers also repeatedly quashed the rumours Everywhere would involve NFTs or cryptocurrency, sparked by a job posting which mentioned them both last year. "It just doesn't offer us anything we need," chief development officer and industry veteran Mick Hocking said at one point, in the most succinct denial I heard over the course of my time at the studio. Such technologies were useful if you wanted to take content outside of your walled garden, Hocking continued, but that's not what Everywhere was about. Thinking about it later, I realised that's the complete opposite of the studio's ambitions for Everywhere, even down to the project's all-encompassing name.

"We've been very quiet for years and we've probably set ourselves up for people to fill in the blanks because we've just not felt ready to talk," Benzies concluded, speaking at the end of a day full of talking, albeit one which also left several big questions unanswered. How will Everywhere and MindsEye be monetised, and how will the platform attract an audience amidst a market full of well-established alternatives? And even with a team of veteran developers, with such a small glimpse, it was tough to divine much of MindsEye as a AAA game experience. Will the gamble pay off? There's more talking to be done before I'd wager anything myself, but I admit I am fascinated. After six years of development, we're about to find out.
Denial of responsibility! insideheadline is an automatic aggregator around the global media. All the content are available free on Internet. We have just arranged it in one platform for educational purpose only. In each content, the hyperlink to the primary source is specified. All trademarks belong to their rightful owners, all materials to their authors. If you are the owner of the content and do not want us to publish your materials on our website, please contact us by email – [email protected]. The content will be deleted within 24 hours.