There were failures, too. My mother tried to raise a family of emu chicks. To her despair, they refused to eat or drink, fretting for their lost parents.
Joey grew fast.
Soon he took to hopping around in my footsteps.
We wandered the paddocks together, and I carried on one-sided conversations with the little kangaroo. Perhaps my father had brought home the joey because he worried I might be lonely.
We visited the milking shed in the mornings to watch my father hand-milking Buttercup, the house cow. Joey always got a small bowl of warm milk.
As he flourished, Joey took an interest in the neighbour's farm, where a herd of pigs wallowed.
The little 'roo found ways to get through the adjoining fence and I watched, a bit miffed, as he hopped among the pigs and fed with them at their slop trough.
"Sometimes, I think he imagines he's a pig," my mother said.
Happily, Joey always came home, and I'd give him a stiff talking to.
"You're a kangaroo," I lectured, but a few days later, he'd return to his new friends.
Weeks passed and Joey grew as tall as me.
One day, while ambling aimlessly together in the paddock behind the shearing shed, I found myself surprised when Joey propped and stretched to his full newfound height and grunted.
Without warning, he attacked, balancing on his tail and kicking out, sending me sprawling.
I bellowed with fear as he bounced upon me. I tried to scramble to my feet, and he scratched my face with the claws on his forepaws.
My father came running, and delivered Joey a mighty kick or two of his own, accompanied by loud cursing.
I was carried into our house and my mother, berating my father for the foolishness of leaving a child with a wild animal, tended my bruises and scratches.
It was the last I saw of Joey. My father claimed later that a neighbour had loaded my pet into a trailer and taken him to an uncle's farm across the border in South Australia.
Joey had grown too big for me, it was explained. He would be much more content in new surroundings. A fine story was spun of Joey hopping happily around paddocks with a mob of new kangaroo friends. I did not pursue the story, fearing a much more likely, abrupt and terminal truth.
My real question was: Why had gentle Joey turned on me? We'd been friends since he slept in a chaff bag.
The truth was plain to see out in the bush, where young male kangaroos regularly practised combat, rearing and kicking and not doing much damage to each other.
They were preparing for adulthood, when full-grown males pumped with testosterone and lusting to mate challenge dominant chieftains. These are serious bouts, capable of causing dreadful injury.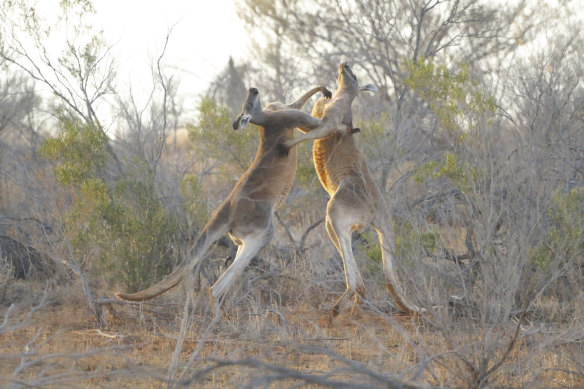 Joey, it seemed, short of a handy juvenile kangaroo for a spot of practice sparring, had simply sized me up and let fly.
A year later, I started school. It was just a little school in the nearby town, but it felt large and scary and lonely for a farm boy.
Most unnerving of all was the preponderance of town kids, who all knew each other and had run together for all of their short years.
One of them took only a few days to size me up.
He sneered that I was a "country cousin" and wanted to know why I wasn't wearing rubber boots. He started edging me backwards into the shelter shed, his mates jeering.
To my great surprise, I found myself propping and, to my even greater surprise, telling this would-be tormentor to run away to his mummy or I'd knock him on his behind.
I was never bullied after that.
Poor Joey, in his short life, had granted me a parting gift. Who could ever be scared of a town kid after surviving a kicking from a kangaroo?
The Morning Edition newsletter is our guide to the day's most important and interesting stories, analysis and insights. Sign up here.
Denial of responsibility! insideheadline is an automatic aggregator around the global media. All the content are available free on Internet. We have just arranged it in one platform for educational purpose only. In each content, the hyperlink to the primary source is specified. All trademarks belong to their rightful owners, all materials to their authors. If you are the owner of the content and do not want us to publish your materials on our website, please contact us by email – [email protected]. The content will be deleted within 24 hours.