NEWYou can now listen to Fox News articles!
Lawmakers on the Jan. 6 committee, during their Thursday night primetime hearing, said former President Trump "spurred a mob of domestic enemies" to attack the Capitol in an effort to "subvert American democracy" and overturn the 2020 presidential election. 
Committee Chairman Bennie Thompson, D-Miss., in his opening statement, said Trump "was at the center of this conspiracy." 
"Ultimately, Donald Trump, the President of the United States, spurred a mob of domestic enemies..to march down the Capitol and subvert American democracy," Thompson said. 
Committee Vice Chair Liz Cheney, R-Wyo., during her opening statement, said Americans Thursday evening would see "never-before-seen footage of the brutal attack on our Capitol." 
"An attack that unfolded while a few blocks away, President Trump sat watching television in the dining room next to the Oval Office," Cheney said. "You will hear audio from the brave police officers battling for their lives and fighting to defend our democracy against a violent mob Donald Trump refused to call off." 
"There is no room for debate. Those who invaded our capital and battled law enforcement for hours were motivated by what President Trump had told them–that the election was stolen and that he was the rightful president," Cheney said. 
JAN. 6 COMMITTEE AIMS TO SHOW 'TRUMP WAS AT THE CENTER' OF PLOT TO OVERTURN ELECTION WITH PRIMETIME HEARING
Cheney added: "President Trump summoned the mob, assembled the mob and lit the flame of this attack." 
The Select Committee is played a never-before-seen video of graphic events that transpired during the Jan. 6, 2021 attack on the Capitol. Thompson, before playing the tape, warned that it "is hard to watch."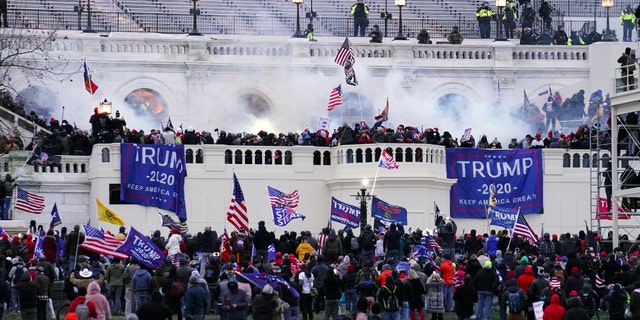 Lawmakers on the Jan. 6 committee also presented videos of interviews and depositions with former top Trump officials before the select committee. 
During his opening statement, Thompson referred to former Attorney General Bill Barr's deposition before the committee. 
Barr said he had three discussions with Trump between Election Day 2020 and his early resignation from the Trump administration in December 2020.
"I made it clear I did not agree with the idea that the election was stolen, which, I told the president, was bulls–t," Barr said during his deposition. "And you know, I didn't want to be a part of it, and that's one of the reasons that went into me deciding to leave when I did."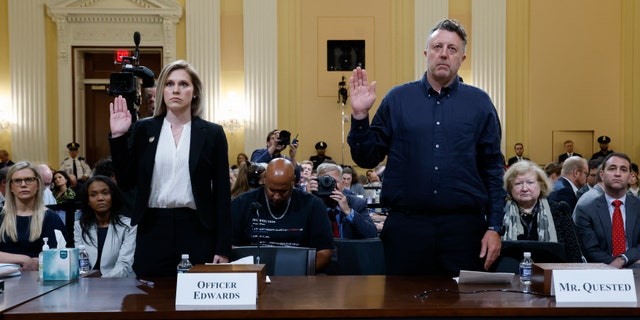 Barr added that: "You can't live in a world where the incumbent administration stays in power based on its view, unsupported by specific evidence, that the election–that there was fraud in the election."
Cheney, one of only two Republican members on the committee, also played a clip from Barr's deposition during her opening statement, again undercutting Trump's claims that the 2020 presidential election had been stolen. 
"I repeatedly told the president, in no uncertain terms, that I did not see evidence of fraud and that would have affected the outcome of the election," Barr said. "And frankly, a year and a half later, I haven't seen anything to change my mind on that." 
Cheney presented video testimony from Ivanka Trump on Barr's statement that the Justice Department found "no fraud sufficient to overturn the election." 
During the video, Ivanka Trump was asked how Barr's statement affected her perspective of the election.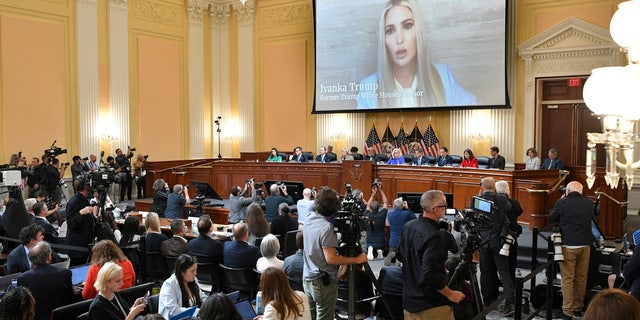 "It affected my perspective," she testified. "I respect Attorney General Barr, so, I accepted what he was saying." 
The committee also played video of the testimony of Ivanka Trump's husband, Jared Kushner. Both were members of the Trump administration. 
Meanwhile, Cheney said that there is "no doubt that President Trump was well aware of the violence as it developed."
"White House staff urged President Trump to intervene and call off the mob," Cheney said, presenting a document written by a member of the White House staff "advising what the president needed to say" while the attack was underway at the Capitol.
"Anyone who entered the Capitol without proper authority should leave immediately," the note Cheney presented read. "This is exactly what his supporters on Capitol Hill and nationwide were urging the president to do. He would not."
Cheney also pointed to congressional leaders who "begged" Trump for help, including Republican Leader Kevin McCarthy, who was "'scared' and called multiple members of President Trump's family after he could not persuade the president himself."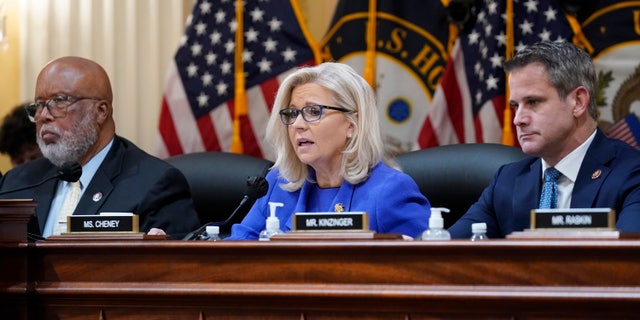 "Not only did President Trump refuse to tell the mob to leave the Capitol, he placed no call to any element of the United States government to instruct that the Capitol be defended," Cheney said. "Trump did not call his Secretary of Defense on January 6th. He did not talk to his attorney general. He did not talk to the Department of Homeland Security."
"President Trump gave no order to deploy the National Guard that day, and he made no effort to work with the Department of Justice to coordinate and display and deploy law enforcement assets," Cheney said.
Cheney, though, said then-Vice President Mike Pence did contact the Pentagon for assets to protect the Capitol. 
Cheney played audio of testimony from Chairman of the Joint Chiefs of Staff Mark Milley, who said Pence "was very animated and he issued very explicit, very direct, unambiguous orders–there was no question about that." 
Milley said Pence urged then-Defense Secretary Christopher Miller to "get military down here, get the guard down here, put down this situation."
In contrast, Milley shared details of his conversation with then-White House chief of staff Mark Meadows.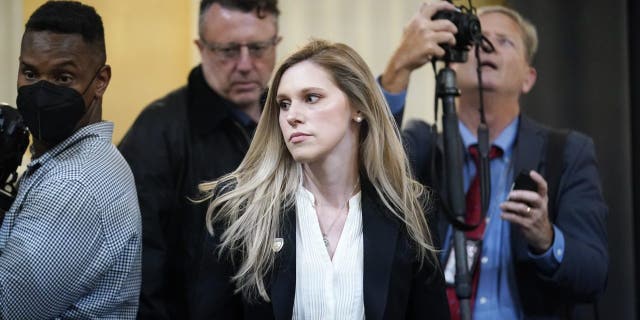 "He said, we have, we have to kill the narrative that the vice president is making all the decisions," Milley testified Meadows said. "We need to establish the narrative that, you know, that the president is still in charge and that things are steady or stable." 
Milley added: "That's something– I immediately interpret that as politics, politics, politics. Red flag for me personally."
The hearing will also feature testimony from two live witnesses — Capitol Police Officer Caroline Edwards and filmmaker Nick Quested.
But a select committee aide said Wednesday the hearing in general will emphasize "ongoing threats to our democracy" related to Trump and Jan. 6.
"The vast majority of the material you will see … is previously unseen," a select committee aide said Wednesday. "Whether it is recording video or audio of witnesses we've interviewed, whether it is records that we've obtained over the course of our investigation.
REP. BANKS SAYS JAN. 6 COMMITTEE IGNORING PHYSICAL SECURITY OF CAPITOL, PLANS REPORT FOCUSING ON THAT ISSUE
"We will be revealing new details showing that the mob on Jan. 6 was the result of a coordinated, multistep effort to overturn the results of the 2020 election and stop the transfer of power from Donald Trump to Joe Biden. Trump was at the center of that effort." 
Republicans are largely not involved in the committee hearings, as just two sit on the panel: Cheney and Rep. Adam Kinzinger.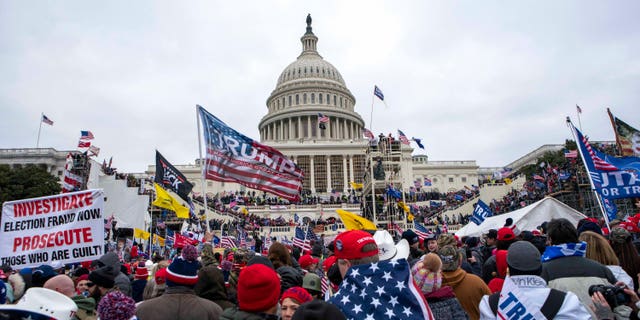 Republicans have argued that the committee is not legitimate because House Speaker Nancy Pelosi, D-Calif., did not seat Minority Leader Kevin McCarthy's chosen Republicans on the committee.
Republicans have also argued that the committee is ignoring the physical security of the Capitol to focus on the Trump-related storyline. 
"We should study the events that led up to it. Why the Capitol was left unsecured on Jan. 6 when there was intelligence dating back before Jan. 6 something was going to happen," GOP Rep. Jim Banks said in an interview with Fox News Digital. 
WHAT'S AT STAKE FOR DEMOCRATS IN PRIMETIME CAPITOL RIOT COMMITTEE HEARING
But those supportive of the committee say it is taking Capitol security into account. It has a separate investigative team dedicated to security failures. Republicans are just using that point to deflect from Trump's false claims the election was stolen and alleged culpability in the attack, committee supporters say. 
"The Capitol did not attack itself," a spokesman for Jan. 6 Committee Ranking Member Liz Cheney, R-Wyo., told Fox News Digital.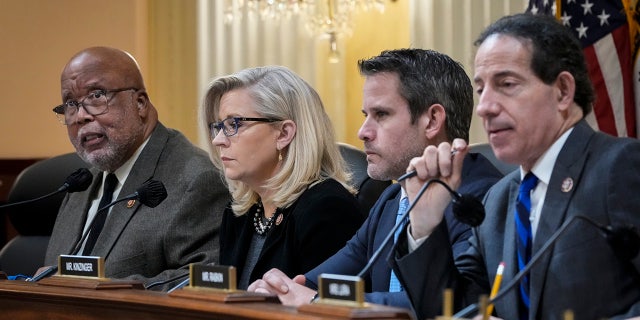 Thursday's hearing is expected to be just one of several televised hearings from the Jan. 6 committee, with the next already announced for Monday and Wednesday next week. 
JAN 6 SUBPOENAS: PETER NAVARRO CALLS POTENTIAL GAG ORDER AGAINST HIM DOJ HYPOCRISY
The committee is expected to use their series of hearings to attempt to capture Americans' attention before the November midterm elections—as they compete with inflation, rising gas prices, shortages in baby formula and more for political attention.
A select committee aide said the Thursday event will serve as an "opening statement" to grab Americans' attention and to preview subsequent hearings. 
Thursday's hearing comes after months of interviews, depositions and the committee subpoenaing more than 1,000 people and gathering more than 140,000 documents.
CLICK HERE TO GET THE FOX NEWS APP
Former President Trump on Thursday, hours before the hearing, posted on his own TRUTH Social, slamming the "corrupt politicians" on the panel, and blasting them as "political thugs." 
Fox News' Tyler Olson contributed to this report.
Denial of responsibility! insideheadline is an automatic aggregator around the global media. All the content are available free on Internet. We have just arranged it in one platform for educational purpose only. In each content, the hyperlink to the primary source is specified. All trademarks belong to their rightful owners, all materials to their authors. If you are the owner of the content and do not want us to publish your materials on our website, please contact us by email – [email protected]. The content will be deleted within 24 hours.