Outer Range is a combination of cowboy drama and Little Horror on the Prairie. The Prime Video series stars Josh Brolin as Royal Abbott, the patriarch of a ranching family in Wyoming. Conflict arises when the neighboring Tillersons take a vested interest in his land. Between the previous disappearance of Abbott's daughter-in-law, the arrival of a mysterious woman, recurring strange symbols, and the discovery of an eerie black hole, real-life drama and the supernatural threaten to swallow the Abbotts up.
Shaun Sipos portrays Luke Tillerson, the family member responsible for running the day-to-day business of their ranching operation. Initially, Luke comes off as accommodating and considerate, before demonstrating a competitive and mean streak. Sipos recently spoke to CBR about Western tropes, family feuds, injecting science fiction into the Western genre, and singing.
RELATED: Is The Power of the Dog Truly a Western?
CBR: Between Yellowstone and Westworld, now is the best time to be a Western. What makes this genre such an amazing canvass for storytelling?
Shaun Sipos: I think [it's] because it cuts to the heart of what it is to be human. Westerns, in my opinion, are pretty clear. You have your bad guy. You have your good guy. The situations are very age-old. It deals with human nature and what it is to be human, what it is to not know what's coming next, dealing with the mysteries of the world and the dark side of human nature. All Westerns hit those things, I think, and it keeps it from being overly complicated.
At the same time, how do you feel about Outer Range both embracing Western tropes but also subverting them?
It embraces them because, in the show, one of the main points is these two families are feuding over this piece of land. In that respect, it's very Western. Then how it would subvert that is it has a science-fiction element to it. You get something that is otherworldly, but that has a lot of meanings to it.
RELATED: NBC's Unbroken is Yellowstone for Network TV
Introduce us to your character Luke and where we find him in the series.
Luke is the wanting brother of the opposing family. I always saw him as wanting to be the golden child and could never quite make that happen, no matter how hard he tried. Throughout the story, Luke is directly opposing Royal and the Abbott family. That is his role in the show. As for Luke personally, he has such a good heart, but he keeps getting cut by the relationship with his father and his brothers. Ultimately, that sours him throughout the story.
The Tillerson and Abbott feud resembles the McCoys and Hatfields. Do you feel that rich history between the two families?
Yeah, particularly rancher families, where they are connected through the land and living off the family, essentially… Nowadays, we have some job like we are doing right now, where you get a check for talking to people, and then you go, "OK, cool," and then you go buy some groceries. There's a very big difference between that and somebody who directly lives off the land, lives off the wildlife, lives off the cattle, and lives off the oil. There's a direct connection to the land. That's such an age-old and ancient intrinsic thing for a family to own that amount of land. It's quite historical for them. It goes back generations. The feuding is generations old. You get that sense of the Hatfields and McCoys, that sort of history.
RELATED: Yellowstone and Sons of Anarchy Are Uncannily Similar Shows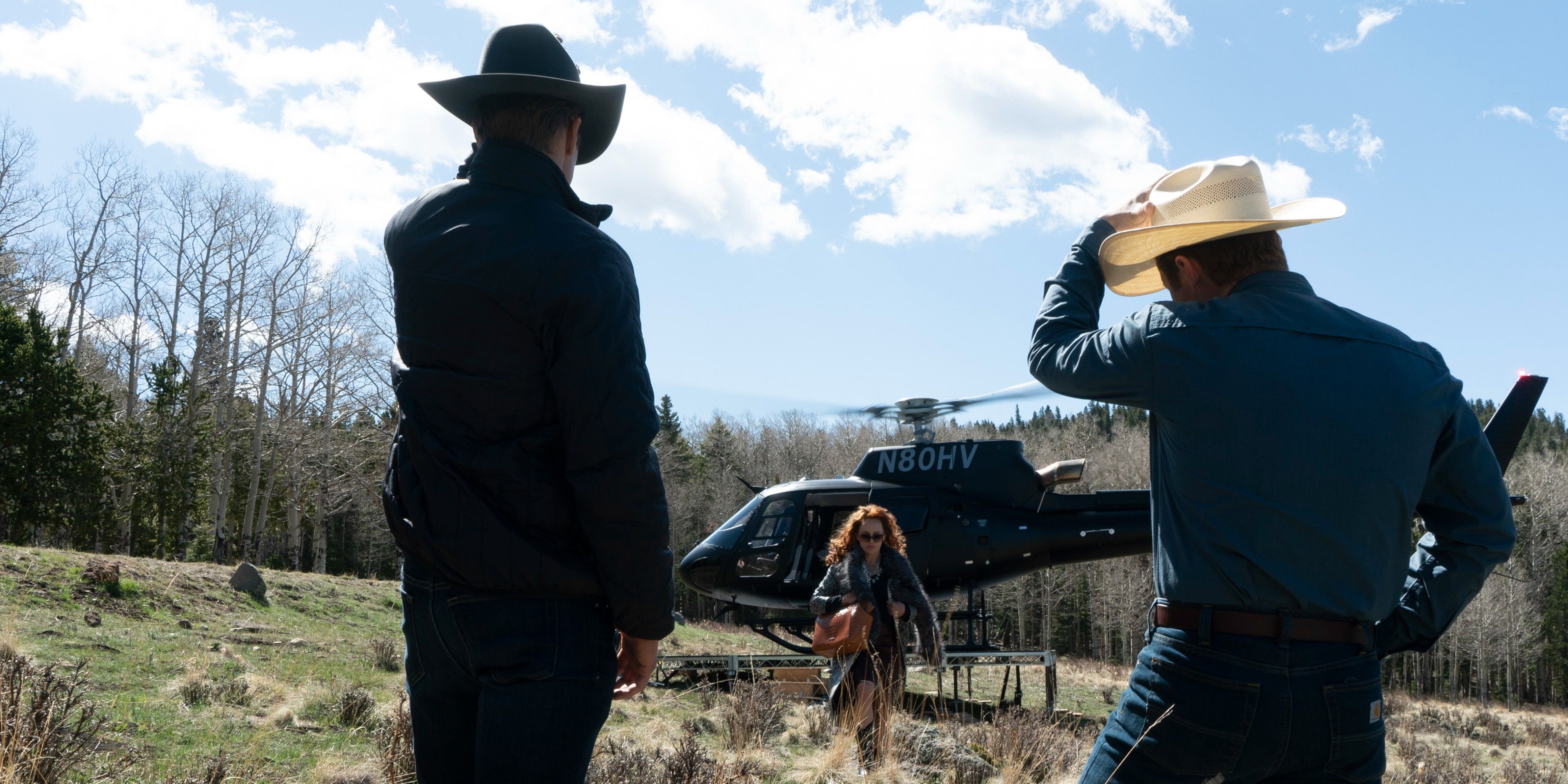 What drives Luke during this series? What can you tease about his arc?
I think it's the spurned son. His whole world is a very cold and aggressive, dog-eat-dog world. That takes away a lot of his innocence and a lot of his purity. If he succeeds enough and gains enough control, I think he believes he can keep away the pain. That is what drives him throughout the story. How he gains control is what makes the story interesting… or, how he attempts to gain control. That puts him in direct conflict with Royal and the Abbotts.
This is your first full-fledged Western. What kind of conversations did you have with creator Brian Watkins to help you prepare for this landscape?
The Tillersons are kind of a hybrid-Western family. We are not riding horses. We are riding ATVs. They are sort of the future meets the past. In terms of the prep for the Western, it's that driving force, that clarity between the conflicts, the clarity of what it is to be a human being that strives over advancing yourself, strives after getting what you want in life, that Westerns are so clear about. What I did was watch a bunch of Westerns and talk to Brian about the conflicts in the story. A lot of the Westerns are set back in the pioneer days, so there wasn't a whole lot I could draw from unless you are looking to Hell or Highwater, but then that's a bank-robber Western. This isn't a bank-robber Western. Not a whole lot to draw from aside from the thing that makes a Western a Western, which you can find in Butch Cassidy and the Sundance Kid.
RELATED: Did the Yellowstone Prequel 1883 Have Enough Story for a Second Season?
People might have expected you to be on horseback…
I would have loved that.
As you mentioned, Outer Range contains this sci-fi backdrop. One of the big mysteries is this massive hole on the Abbotts' property. How much did you know about that element going into the show, and how much did you learn along the way?
The hole is a mysterious and fascinating concept because you can throw all the things you don't want people to see into it. There's a psychological aspect to it, and there's a very real physical aspect to it in the story. Brian wrote a play about a man burying his secrets in a hole in the ground, which lends to the idea that it's something that is very metaphysical and very real. In terms of figuring out what was going on with the hole, there was Brian's play. Then, you glean what the hole is about throughout the story and [by] reading the scripts. Then, you have guys on set showing you, "Hey, this is what the hole is going to look like. Here is what we are aiming for." You are sort of putting it together like a jigsaw puzzle. You are putting everything together to create an image of what you think it is.
RELATED: Yellowstone Is TV's Biggest Hit – And That's Causing Its Studio Major Problems
Outer Range started production in the dead of winter, in the middle of nowhere, during Covid. How grueling was this shoot?
There were some cold days. We had some days where there was freezing mist. I don't know what the temperatures were, but it was pretty damn cold. In terms of the Covid protocols, it was what it was. It was difficult sometimes because you were wearing a mask outside and it would be cold. You would get the heat and moisture from your breath, but then you would have the freezing cold, so it freezes on your face. That part was a little difficult. Aside from that, everyone did what they needed to do to keep everybody safe and continue shooting. Nobody wanted to shut down, so I think everyone was pretty amicable to follow those guidelines.
Luke's brother, Billy, has a quirk. He constantly belts out tunes. Bloopers can be extremely entertaining. Did you ever join co-star Noah Reid in song?
Man, I wish I did. I didn't. I didn't because he just sings so damn well. I don't sing as well as him. My ego wouldn't allow it.
Outer Range premieres on Prime Video on April 15.
Deadwood: Why HBO Canceled the Series
Read Next
About The Author
Denial of responsibility! insideheadline is an automatic aggregator around the global media. All the content are available free on Internet. We have just arranged it in one platform for educational purpose only. In each content, the hyperlink to the primary source is specified. All trademarks belong to their rightful owners, all materials to their authors. If you are the owner of the content and do not want us to publish your materials on our website, please contact us by email – [email protected]. The content will be deleted within 24 hours.