On September 14, 1973, a 55-foot cutter named the Southern Maid set sail from the harbour at Rabaul, a small town on the north-east tip of East New Britain, an island province of Papua New Guinea. It was a hot, muggy morning, reaching 31 degrees, with a languid breeze blowing from the south-east. On board were three Australians, a New Zealander and an American. Stashed in the hold were provisions enough for several weeks at sea, the latest two-way radio system, flares, a life raft and plenty of fishing gear. The boat was bound for Hong Kong, some 5000 kilometres away, across vast tracts of open water, over the Mariana Trench, the deepest part of the ocean, past the northern tip of the Philippines and on to the South China Sea. The region was regarded as rich pickings by pirates; as a precaution, the skipper, Sid Ramsay, had brought along a pair of hand guns, together with thousands of dollars in cash, enough to establish a new life in Hong Kong. For the 32-year-old Ramsay and his four young crew members, the journey promised to be the trip of a lifetime.
Ramsay had always had a taste for adventure. Born in Cairns, he'd moved with his family to Melbourne as a child. At the age of 18, he joined the Royal Australian Air Force, training as an instrument mechanic. In 1960 he got posted to Townsville, in Far North Queensland, where he met and married a local girl, Sandra Robinson, with whom he had a daughter, Jane, in 1965, followed, in short succession, by two more daughters and a son. Tall and fit, with tousled hair and a square jaw, Ramsay was a confident presence and beguiling storyteller whose practical jokes – serving cat food to house guests disguised as pâté, for example – occasionally tested the bounds of good taste, not to mention people's patience. After leaving the RAAF, in 1962, he sold cars for a time, before establishing a thriving used-car business and truck-hire company. On the weekends he would zip out to Magnetic Island, just offshore from Townsville, in his speedboat, the Four Seasons.
"He drove the speedboat so fast, and Mum didn't like it," says his oldest daughter, Jane Ramsay-McCoach, who is now 57. "Dad and Mum were real opposites, but totally in love."
In 1971, he and Sandra took the kids on a cruise around Asia, stopping at Osaka, Manila and, most memorably, Hong Kong, which enchanted Ramsay with its exoticism – the pungent alleys, the junks in the harbour – and unfettered opportunity. "Dad was an entrepreneur," says Ramsay-McCoach. "He used to say, 'Asia is the future!' "
Soon afterward, Ramsay had the idea of taking the family to Hong Kong to live. He would sail there in his yacht, the Southern Maid; Sandra, never a fan of small boats, would take the kids by passenger ship. On the first leg of the journey, they rendezvoused in Rabaul, whose harbour and relative comforts made it a hub for passing ships. "We ended up staying for six weeks," says Ramsay-McCoach. "We even went to primary school there."
When it came time to leave, Sandra stood on the dock and waved her husband off. They would meet again in Hong Kong, by Ramsay's reckoning, on about October 8. But they never did. The Southern Maid disappeared without a trace, a few weeks later, somewhere between Micronesia and Hong Kong. None of her crew was ever seen again.
---
Loading
Most mysteries are irresistible, but there is something about the ocean, her spectral depths and numinous beauty, that makes nautical mysteries especially compelling. Ramsay's disappearance became the talk of Townsville, and was reported as far away as Sydney and Hong Kong. There were rumours that he had been captured by pirates, that he'd strayed into Chinese waters and was being held as a spy, that he'd absconded with another woman; that the boat had sunk in a typhoon; even that he and the crew were marooned on a tropical island, awaiting rescue. Sandra died in 1996, but for his children, Ramsay's legacy, even 50 years on, remains no less ambiguous; a riddle, a void, a source of deep longing and endless conjecture.
"For most of my life, it never resonated with me that I didn't have a father," says Lewis Ramsay, Sid's son, when I catch up with him in Townsville. "But then I had my own kids, and I began to wonder, 'Why am I the way I am? Why are my kids the way they are?' Dad was the missing piece."
"But then I had my own kids, and I began to wonder, 'Why am I the way I am? Why are my kids the way they are?' Dad was the missing piece."
Lewis, who is 52, has electric blue eyes and short salt-and-pepper hair. He's a fifth-generation Townsvillian: his great-great-grandmother was the first white woman to set foot on Magnetic Island, in the 1860s. He is also, among other things, a business consultant and chairman of the North Queensland Cowboys rugby league team. He's travelled widely for work but now lives with his wife, two children and a chihuahua called Biggie in a spacious home overlooking Rowes Bay, the milky-green, blood-warm waters of which are said to be the tiger shark breeding capital of the world. "We went fishing there the other day and this three-metre croc came cruising past with its mouth open," he tells me.
After making us a cup of tea, Lewis produces a bundle of documents – photos, clippings, family letters and legal papers – which, together with Ramsay family lore, has allowed him to piece together an ersatz portrait of his father. "He was a doer," says Lewis. "Always pushing hard, never accepting the status quo. But he was also a bit of an I'll-prove-you-wrong kind of guy. I think he thought he was more capable than he was."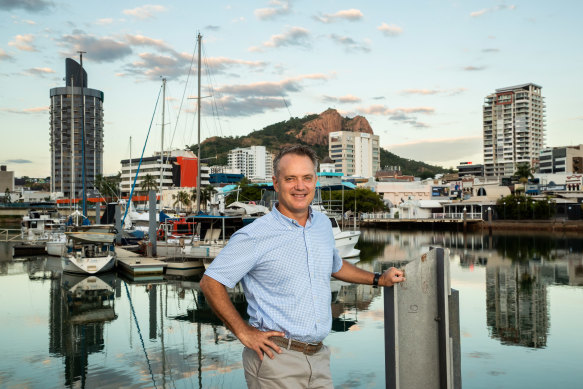 Sid loved being on the water. In 1970, he spent $10,000 buying a trimaran called Buccaneer, but the engine blew up one night when he was working on it, landing him in Townsville Hospital with severe burns. A year later, he bought the Southern Maid for $22,500 from an English eccentric and amateur adventurer named Andy Martin. The boat, which had been built in 1946, had a classic profile, with a streamlined counter stern protruding far over the waterline and a clipper bow that curved gently upwards, at once elegant and raffish. "It also had a big six-cylinder engine, which impressed Sid," says Allan Porter, a sailing mate who was working at the time for ABC Radio in Townsville.
Southern Maid had been built as an open-ocean yacht. But at some stage, someone – most likely Martin – had filled her hull with cement. "The idea was to ballast the boat," says Porter, "to make her as stable as possible for inshore sailing and charters, so that people could sit on deck and not spill their champagne." But the ballasting brought the boat's weight to almost 30 tonnes, making it far less responsive and more prone to pooping, when waves from a following sea swamp the stern. When Sid said he intended to sail to Hong Kong in it, Porter, a far more experienced sailor, almost choked. "I told him that it was not suitable for deep-sea conditions, that it wouldn't be able to handle big seas, but he didn't listen."
Instead, Sid began restoring the boat. He fitted the deck with a handsome timber overlay, and shot-blasted the steel hull, to prevent corrosion. (Shot-blasting, while effective, involves extreme force; if not done carefully – or done too frequently – it can actually weaken the surface.)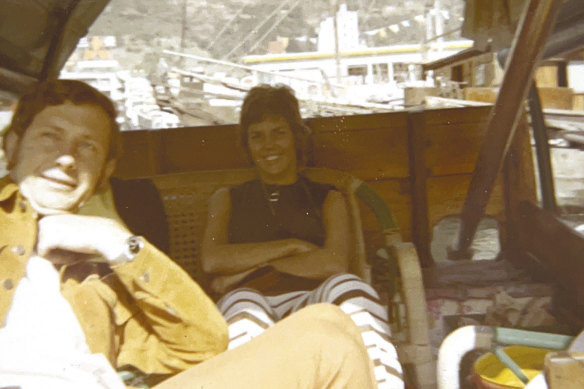 In April 1973, with the Southern Maid almost ready, Sid began looking for crew members. He managed to recruit his friend, a Townsville architect named John Hooker. "I wasn't a sailor, really," says Hooker, who was 27 at the time, and now lives on the Gold Coast. "Sid introduced me to it." Graeme Johnson, a local fitter and turner, also joined them. After leaving Townsville in late June, the three men sailed up to Cairns, where they collected a fourth crew member, Graham Robertson. They then continued to Cooktown and on to Lizard Island, about 100 kilometres further north.
Hooker was in heaven: "We anchored in this little bay and went snorkelling and fishing." But Sid had become cripplingly homesick. "My dearest darling," he wrote to Sandra in a letter he mailed from Dunk Island. "I never thought I would miss you and the kids so much. I guess it's knowing I might not see you for so long." If not for all "the ballyhoo about leaving", he added, "I think I would have turned the boat round and come home."
From Lizard Island they sailed four days north to Samarai Island, off the south-eastern tip of PNG. The weather was rough, Sid wrote to Sandra: "I'm sure you would have said we were going to sink." But the scenery was magnificent, particularly when they reached Laughlan Atoll, a tiny, low-lying spit of land, some 400 kilometres to the north-east. The island was extremely remote and, by the look of it, rarely visited. "As we sailed in, all the locals paddled out in dugouts," says Hooker. "The little ones had coconuts around their arms, as floaties." The Australians traded their fish for the islanders' pigs. Graeme Johnson did yoga on the beach as the locals gathered round, wide-eyed.
Loading
The men stayed for two days, then made for Rabaul. It was a four-day sail, through mellow weather and velvety seas. "We took the helm in four-hour shifts," Hooker says. "I remember the moon on the water at night and the cool breeze."
Back in Townsville, meanwhile, Sandra received another letter from her husband. "If I go cruising ever again – believe me – you're coming with me," he wrote, before signing off: "A million miles of love to my beautiful wife and marvellous kids."
The first things that Hooker noticed as they sailed into Rabaul were the volcanoes, three brooding peaks that ring the bay like sentries. After reporting to the port authorities, the men visited Rabaul Yacht Club to acquaint themselves with the local sailing fraternity. Sandra and the kids arrived a week later. The family rented a timber house on stilts, close to the water. On the weekends, they drove to local villages. "We were fortunate enough to watch tribal ceremonies," says Ramsay-McCoach, who was eight at the time. "We spent a lot of evenings at the yacht club running around the large grassy area they had while the adults drank and talked."
They had arrived at an interesting time. PNG was approaching independence, and Rabaul had about it a certain boozy, end-of-empire feel. According to Hooker, "the whites looked down on the locals." There was even talk of an uprising, much like the anti-colonialist Mau Mau rebellion in Kenya in the 1950s. "People were nervous."
Not that it stopped them sailing. On the weekend, the yacht club staged races to the Duke of York Islands, 20 kilometres offshore. Sid often took part, testing the boat to its limits. "Sid was a bit cocksure," says Neville Trass, who lived next door to the Ramsays in Rabaul, and sometimes sailed with Sid. "One time, we were coming back from a race, and instead of going out around the reef like all the other boats, he went through it, dodging in and out of these clusters of coral, which was pretty dangerous." Another time, Sid had the Southern Maid heeling hard on its rail. According to Trass, one of the other men on board, an experienced sailor, told him, "You keep doing that and you'll end up in trouble."
One day, while sailing, the boat became sluggish. Heading below deck, Sid found water leaking through the hull and a broken cooling pipe. "Sid told me that there was rust in the keel but that he'd got it out and patched it in Townsville," says Howard Vernals, a marine engineer who lived in Rabaul. "But I thought it should have been examined more closely." Vernals offered to help, but Sid politely declined.
"My awareness was that they were there to protect Dad from the 'baddies'. And I remember thinking, 'Oh, Dad's got a gun. He'll be okay!' "
The three men with whom Sid had sailed from Townsville opted not to continue, so he set about finding a new crew in Rabaul. He'd soon signed up Rodney Snell, a 24-year-old father of two who ran a panel-beating business in town, and Rod Donald, a local auto electrician. A Kiwi named Greg Walker, who had served in the New Zealand merchant marine, also volunteered, together with a 30-year-old American backpacker named Allen Merkle, or Allen Moyes. (He appears to have had two surnames.) The men began sailing together, but not without incident: on one outing, a crew member became tangled in the rigging and hauled upwards, sustaining serious rope burns.
Aside from Walker, it's unclear whether any of them had sailing experience.
In early September, Sid contacted Allan Porter, who had by then landed a job as an announcer on Radio Hong Kong, to tell him he would soon be setting off. "I told Sid it was the worst time for typhoons," Porter tells me. "I said, 'September, September, the month to remember!' " Porter even suggested Sid change the family plans and sail south-east, to Fiji, but he wouldn't hear of it.
The night before leaving, Sid came home to his house in Rabaul carrying the pair of handguns. "I remember him putting them on the table in front of us," says his second daughter, Linda, who was seven at the time. "My awareness was that they were there to protect Dad from the 'baddies'. And I remember thinking, 'Oh, Dad's got a gun. He'll be okay!' "
On September 21 – a week after Sid's departure – Sandra and the kids left Rabaul on the MV Chitral, a passenger ship operated by P&O. They arrived in Hong Kong on the 30th, and checked into Chungking House in Kowloon, where Sandra caught up with Allan Porter. "She and the kids were all smiles," Porter says. "Full of hope and happiness."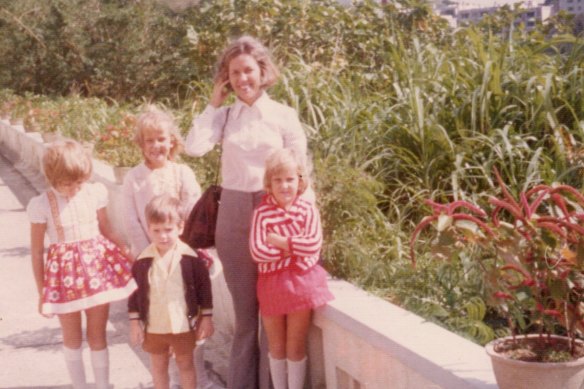 Sandra and Porter then contacted Royal Hong Kong Yacht Club. As it happened, the club had received a telegram from Sid on September 27, from Yap, a blip of land in Federated States of Micronesia, 1760 kilometres north of Rabaul. In the telegram, Sid said that he had stopped in Yap for a night, to rest and re-provision. He had also revised his schedule: he now estimated that it would take four weeks to reach Hong Kong, and that they would arrive around October 24, at the latest.
But as the 24th approached with no sign of the yacht, Sandra became anxious. "I have been having awful thoughts of someone overboard," she wrote to her mother. "Or maybe Sid is sick and no one else can navigate." On the 24th, with still no sign of the boat, the Hong Kong Marine Department requested all shipping in the area to be on the lookout. The US alerted its Seventh Fleet in Japan and Clark Air Force Base in the Philippines. But days, then weeks, went by with no news. Authorities were baffled. The Southern Maid had the latest radio equipment, but there had been no signals received.
No distress flares, no mayday calls. Even if the yacht had sunk, it might conceivably have left some flotsam, but nothing had been found. At one stage, an oil tanker called the Globtik Tokyo, then the largest supertanker in the world, reported seeing a yacht, but on closer inspection it turned out not to be the Southern Maid.
Loading
Then, in mid-November, rumours began circulating. Talk in Rabaul was that a Pan Am flight had received a mayday call from the boat, but that poor weather had prevented it from investigating. On November 13, a telegram appeared on the noticeboard of Rabaul Yacht Club, claiming that the Southern Maid had been sighted by a Qantas aircraft and appeared to be in good shape. According to the Papua New Guinea Post-Courier, Rabaul Yacht Club relayed this news to the Royal Hong Kong Yacht Club. On November 14, a relative of one of the crew members notified the Australian Department of Foreign Affairs. But when the department followed up, it found that Qantas had no record of such a sighting and that there had been no message received by the Royal Hong Kong Yacht Club.
In the absence of information, the relatives began to speculate. "I'm sure Rod is safe," Grace Snell, mother of Rodney Snell, told journalists in Brisbane. "The yacht may have sunk but they could be on an island somewhere." Allan Porter showed Sandra the weather maps for the Philippine Sea, which had had three typhoons in the area where Sid was sailing; it seemed unlikely that the yacht could have avoided them.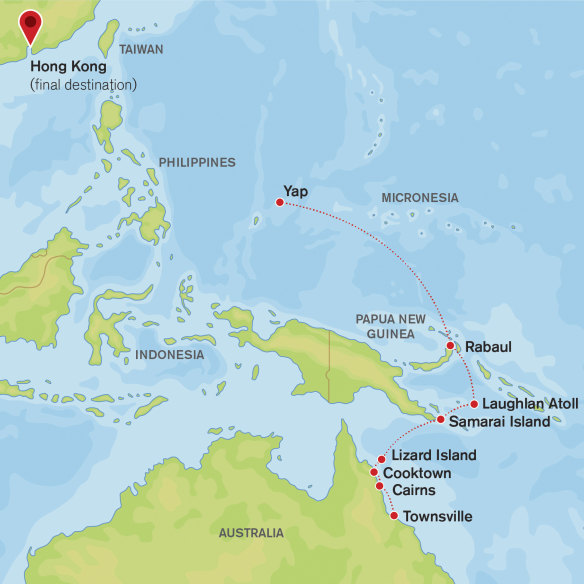 And yet other scenarios kept presenting themselves: one day Sandra read a story in the South China Morning Post about two young Americans, Mary Harbert and Gerald McLaughlin, who had been sailing from Hong Kong in 1968 when they were captured by the Chinese. McLaughlin reportedly killed himself in 1969, but Harbert was held captive for four years. What if something similar had happened to Sid? "It would be awful if when the Chinese tried to come aboard to question them, Sid started firing," Sandra wrote to her mother. "I always worry about Sid with a gun. He'd do anything if he was frightened."
"I said, 'He's not coming back, is he?' And Mum said, 'Of course he'll come. He's just late.' And then she shooed me out of the room."
She was also running out of money: Sid had most of it on the yacht. ("Mum never felt comfortable handling money," says Ramsay-McCoach. "Dad took care of all that.") In the meantime, she wrote increasingly fretful letters to her mother – "Last night I couldn't sleep and was still up at 3am" – and searched for ways to occupy the kids. Every morning they visited the yacht club to sit on the ocean wall, staring out to sea, hoping to spot their father sailing in. "We'd go 'Is that him? Is that him?' " says Ramsay-McCoach. One day, she came into their room at the guesthouse to find Sandra sitting on the floor, in the dark, crying. "I said, 'He's not coming back, is he?' And Mum said, 'Of course he'll come. He's just late.' And then she shooed me out of the room."
---
Jane Ramsay-McCoach has aquiline features, long hair and a plain-speaking manner: when we chat via Zoom, she tells me to look squarely at the screen so she can see my eyes. In 2016, she moved from Melbourne with her husband and four children to live on a ranch in Texas, where they raise Longhorn cattle. On the way, they spent 18 months in Hong Kong. "In the absence of a grave, the city to me was always Dad's memorial, and I wanted my kids to know it like I did."
For much of her life, Ramsay-McCoach inhabited parallel realities: the reality where her father drowned in a typhoon, and the reality in which he was still alive, living on a desert island or kidnapped by pirates or being held by the Chinese. "When you're growing up, no one is going to be the one who says, 'Sweetie, he's dead,' " she explains. "So it becomes an open-ended thing. You can say he's at the bottom of the Mariana Trench or that God took him, and you can write a compelling narrative to say that he's dead, but there is still that lingering question."
I say the logical explanation is that Sid went down with the boat. "Yeah, it makes sense," she says. "But there are lots of things in the world that seem logical that aren't true." Ramsay-McCoach believes it's "highly likely" that the boat ran into pirates. Piracy was certainly rife back then, with the closing years of the Vietnam War pushing waves of vulnerable, displaced people, like bait, into the South China Sea. In 1982, Cruising Helmsman magazine estimated that there were 20,000 pirates operating there, including the infamous Manila-based Morning Glory Gang.
Ramsay-McCoach is particularly intrigued by the mysterious American crew member. Most of the newspapers at the time mentioned the man as "A. Moyes" or "R. Moyes". But an unclassified cable from the US consulate in Hong Kong to the Commander of the US Naval Forces Marianas and the US Secretary of State refers to him as "Allen Merkle". "Could it have been an alias?" Ramsay-McCoach asks in an email. "Was he CIA – given their active interference in that area? Was he a drug smuggler or some other illicit dealer? The point being that we only ever considered the disappearance through the lens of Dad, and 'the crew' were always treated as [incidental]? What if it was actually one of their stories that ultimately led to whatever happened?"
Loading
Sid also had thousands of dollars in cash on the boat. "Maybe one of the crew was a big-mouth, and someone overheard him talking about taking all that money and then followed them out to sea?" Ramsay-McCoach says.
Then there's the layover in Yap. The boat only stayed for 36 hours, a curiously short time given it was about to embark on a four-week, 3000-kilometre unbroken journey to Hong Kong. John Hooker suspects there may have been some kind of incident. Years after the boat's disappearance, Hooker and his wife Margaret were at a function in Innisfail, north of Townsville, when they were approached by a relative of Rod Donald, one of the missing crew members. "[The relative] told us that Rod contacted them from Yap and that he was furious at Sid for getting them all in trouble," Hooker says.
"Apparently something happened and they all ended up in jail."
Interestingly, Sid had mailed a postcard from Yap to Keith Goodall, a business associate back home, urging him to send money, because, as Sid put it, "I need it to get out of here." (Linda dismisses this as "a joke", saying that if Sid needed money urgently he would have sent a telegram. And besides, he had all that cash on board.) Nevertheless, Hooker believes something happened in Yap, after which the boat "may have been told to move on".
Could this have soured the crew's mood? And if so, what then? Could they have become their own kind of pirates, and commandeered the yacht? "I don't know," says Lewis. "There were guns on board, and all that money. I guess anything could have happened."
Her husband's disappearance thrust Sandra into a strange new world, one full of uncomfortable surprises. It emerged that Sid had double-indemnity life insurance, fuelling speculation that he'd faked his death. (In the absence of a body, the insurers would not pay.) In mid-1974, Grace Snell, Rodney Snell's mother, came after Sandra for money, claiming Sid's negligence had caused her son's death. Andy Martin also materialised, demanding $5000 that Sid still owed him for the boat. (Sandra refused to pay.) In late 1974, Sid was declared dead. Three years later, Sandra started seeing someone new, but the kids found it hard to accept. "I was so angry at Mum," says Linda. "I thought, 'How can you be dating someone else when Dad could turn up again?' "
"She accepted him as dead. But I think, had he ever walked through the door, she wouldn't have been surprised."
For many years, Sid's mother, Cora, maintained the belief that her son was still alive, somewhere on a deserted island or languishing in a Chinese jail. "[Cora] found it hard to accept his death because she didn't 'feel his loss'," says Ramsay-McCoach. (Sid's father, Harvey, had died in 1961.) Over the years, however, Cora resigned herself to the inevitable. "She accepted him as dead. But I think had he ever walked through the door she wouldn't have been surprised." Sandra's mother, Mavis, insisted that the boat had been taken by pirates and repurposed.
Loading
Desperate for answers, Sandra consulted clairvoyants, one of whom said that Sid had "turned his back on his marriage" and was seeing someone else. In the mid-1980s, a psychic told Jane that Sid had been kidnapped by pirates and used to smuggle drugs. He had then lost his memory and moved to Myanmar, where he met a local woman and had two children. (Ramsay-McCoach and Cora considered going to Myanmar to investigate, but the country was closed to visitors.) Linda also saw a psychic: apparently Sid had been murdered at sea by unknown assailants. "I felt like [the psychic] knew," Linda says. "It gave me the best sense of closure I could get."
Sandra, meanwhile, was nothing if not pragmatic. Regardless of the reasons – pirates, typhoons, another woman – it became clear within a couple of years that Sid was not coming back. At some stage, she stopped talking about him, sealing off that part of her life like an underwater compartment, as if to stop herself from drowning. "Whenever we asked, she didn't want to go there," says Lewis. "She encouraged us to never look back."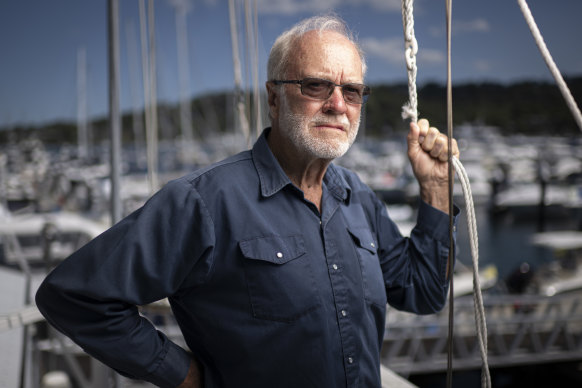 The Western Pacific Ocean consistently produces the most powerful storms in the world. Typhoon Tip, which crossed the Philippine Sea in 1979, was the largest tropical cyclone ever recorded, with winds up to 305km/h. In 1944, Typhoon Cobra struck the US Pacific Fleet off Luzon, the Philippines, sinking three destroyers and killing 790 sailors. In October 1973, three such typhoons were converging on the Southern Maid. "Sid must have hit one of them, if not all three," says Hooker.
The largest was Typhoon Nora, which developed north of Yap in early October. Perhaps the first thing the crew would have noticed was the sky, splashed with hot violets and pinks, colours which commonly precede a cyclone. As the storm moved closer, the winds would have grown exponentially, prompting the crew to take down the sails and perhaps put the yacht under motor. As conditions worsened, Sid would likely have deployed a storm sail – one of the smaller foresails, thrown overboard, that trails the yacht and slows it down. But before long, the winds were at 200km/h, then 220km/h, strong enough to snap the mast and rip apart the rigging. By then, the stern would have been more out of the water than in it, rendering the engine's propeller useless.
According to satellite data, Nora's winds reached 295km/h. At this stage, the ocean becomes like a living thing, tearing from itself great jagged masses of blue-black water and heaping them, one atop the other, into waves the size of houses. With visibility nil, manning the cockpit would have been pointless.
And so the men must have crammed below decks, bracing themselves as the boat moaned and cracked, straining at its seams. According to John Hooker, the hatch on the cabin was never properly watertight. "With the waves coming over the top, there would have been water pouring in," he says.
"There was a bilge pump, but it wasn't designed to deal with a cyclone." And besides, who would have been able to man it? "They would have been tossed around in there like crazy, unless they'd strapped themselves into their bunks."
At some point, the boat probably capsized, but whether it righted itself would have depended on the keel; if it had been torn from the hull, the yacht would have remained upside down, with the men trapped inside. There may have been air caught in the cabin, but the Southern Maid's weight, all 30 tonnes of it, would have dragged the boat down regardless. "It would have been bedlam," Hooker says. "Five terrified guys, helpless."
Loading
"He must have been so scared," Lewis tells me. Ramsay-McCoach agrees. "The worst way in the world would be to drown. I can't even conceive of it."
Ramsay-McCoach has always made a point of talking to her children about Sid. "It's my way of keeping his memory alive," she says. In 2022, her youngest son, Hunter, made a short movie, based on Sid's disappearance, as his final work at film school. The film splices video that Ramsay-McCoach shot of her sons growing up with old Super8 footage that Sid took on his trip from Townsville to Rabaul. Over the top is Ramsay-McCoach's voice: "I wonder if we are how he wanted us to be? Or who he thought we were."
For the movie's epigraph, Hunter chose a quote from the American poet, Major Jackson. "I have not disappeared," it reads. "The boulevard is full of my steps. The sky is full of my thinking."
To read more from Good Weekend magazine, visit our page at The Sydney Morning Herald, The Age and Brisbane Times.
Denial of responsibility! insideheadline is an automatic aggregator around the global media. All the content are available free on Internet. We have just arranged it in one platform for educational purpose only. In each content, the hyperlink to the primary source is specified. All trademarks belong to their rightful owners, all materials to their authors. If you are the owner of the content and do not want us to publish your materials on our website, please contact us by email – [email protected]. The content will be deleted within 24 hours.