I've always really wanted to love the DualSense, Sony's quite groundbreaking controller overhaul for the PlayStation 5. And yet, I admit, since as far back as when I was playing the PS5 pre-release, I had my doubts. Those feelings persist to this day – but now, Sony has a new type of DualSense, an expensive premium version of the pad, and it's without a doubt the best version of this controller. It might even be the best 'elite' controller offering on the market – watch out, Xbox.
Let's deal with the elephant in the room first, though, yeah? My primary issue with the original DualSense was the battery life, and I regret to inform you that the DualSense Edge isn't any better – in fact, it's worse. Very early into the PS5's life I mused that all those extra bells and whistles on the PS5 controller – lights, haptics, resistant triggers, motion-sensing – it was all nice, but I'd generally trade most of it for a controller with better battery life. I do generally stand by that opinion, especially with how I've seen those features used, with the truly groundbreaking uses of them few and far between – Astrobot, still the gold standard years in!
But, I digress. If you, like me, had a problem with the battery life of the DualSense, the bad news is that the Edge won't make a difference to that complaint. However, the DualSense Edge comes packed with other neat features and a really strong build quality – and that makes me far more likely to forgive the battery life and get on with it. It's now absolutely my go-to PS5 controller; I'll ignore my originals.
So, what of those extra features? First of all, there's a lot of bits to this controller, and much of it is swappable. So if you want to switch out the analog stick heads, for instance, you can – with two variations of style and a few more in height included in the box. You can also even remove the entire stick module itself – and though no replacements are included in the base set, the pitch is obvious: if a stick breaks, begins to irreparably drift, or if you want a different design, you'll later be able to buy replacement stick modules for £20 and swap them out, keeping the same controller. This is a step further than most other Premium controllers on the market, though we have looked at a similar offering from Turtle Beach.
Sadly, the controller as-shipped won't let you use it with only one stick installed, and that thus might never be possible unless Sony put out some sort of 'blanking plate' to replace the sticks. I could see the argument for removing and blanking both sticks for a fighting game or a retro 2D game, for instance, removing clutter that won't be used over the D-Pad. Because of the controller's design, the D-Pad is static – it can't be moved. So it's not possible to switch to an Xbox or Nintendo-style stick layout. That's a shame, but the functionality that is here is nice.
There's two flappy paddle trigger points on the back of the controller, though they're not permanent fixtures. Instead, you clip in a choice of trigger, one on each side. As with the stick heads the box includes two different variations, a more subtle one similar to those on Xbox's Elite controller and a version with a higher profile
There's the standard trigger depth adjustment system featured on many controllers, with three steps of depth for each trigger. On shallower settings, you of course lose the adaptive triggers and their haptic feedback, but on the default settings those features are still available, which is impressive in itself.
Swappable parts are a fiddly business, because every part of a device like this which isn't permanently welded into place in some way is a potential weakness point. Controllers get dropped, sat on, and sometimes thrown, especially with a new Street Fighter around the corner – but the DualSense Edge has a great, strong feeling to it – even when it's in pieces.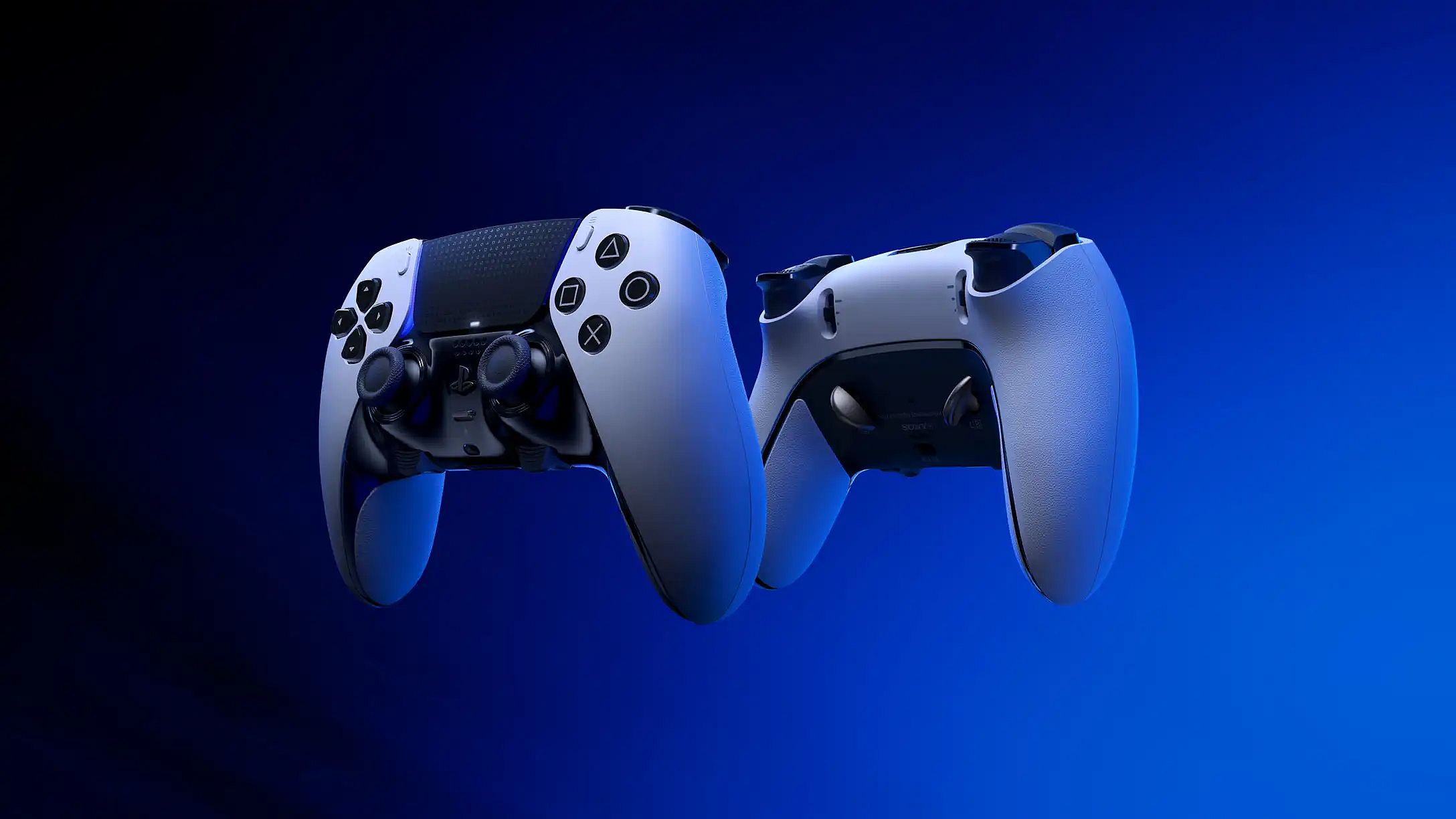 Let me use the swappable analogue sticks as an example. These things are not going to come loose accidentally. To get at them, a tiny fiddly switch that you'll probably use a pen or a needle to open needs to be flicked at the rear, which releases the front shroud that holds the sticks. For many modular controllers that'd be considered enough, but look closer and you'll see the DualSense Edge has little metal flick-switches that lock the sticks into place. These need to be lifted, and then the stick slides out.
Even swapping the stick heads feels… different. On the Xbox Elite Controller, the heads are held in place magnetically and I have lost stick heads for weeks at a time after the controller hits the deck and a head skitters off across the floor. The magnetic thing is cool, and easier to swap – but the Edge instead had them click firmly into place. It's scary at first, as removing and replacing the stick heads requires a fair amount of force – but once you get used to it, you realize how good and sturdy it feels.
In what feels like an admission that the battery life is terrible, the cable that plugs into the controller is 'lockable', which means you won't accidentally yank it out if you get too animated during a FIFA match or something. I'd rather just have a controller with better battery life, but I appreciate this as a feature, and it again has a robust and opulent sort of feel to it.
When you first plug the DualSense Edge into a PS5, the console will throw up a menu replete with customization options and neat tutorials guiding you through what the controller can do. Function keys sitting beneath the analog sticks allow you to switch between custom control schemes without stopping your game. The PS5 UI is hit or miss for me, but the functionality and setup of the software associated with the DualSense Edge is smart, easy to use, and matches the no-nonsense premium energy of the controller itself well.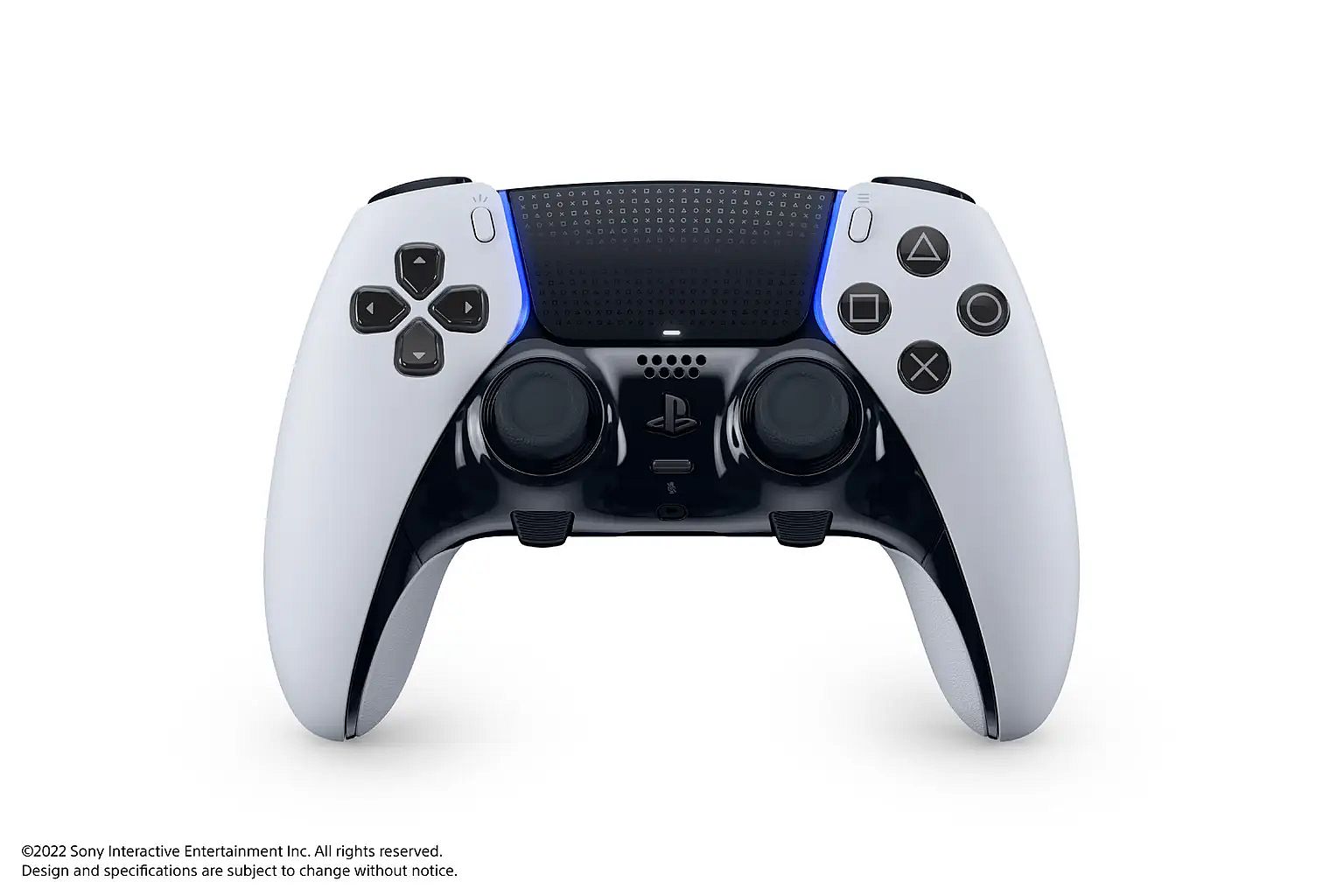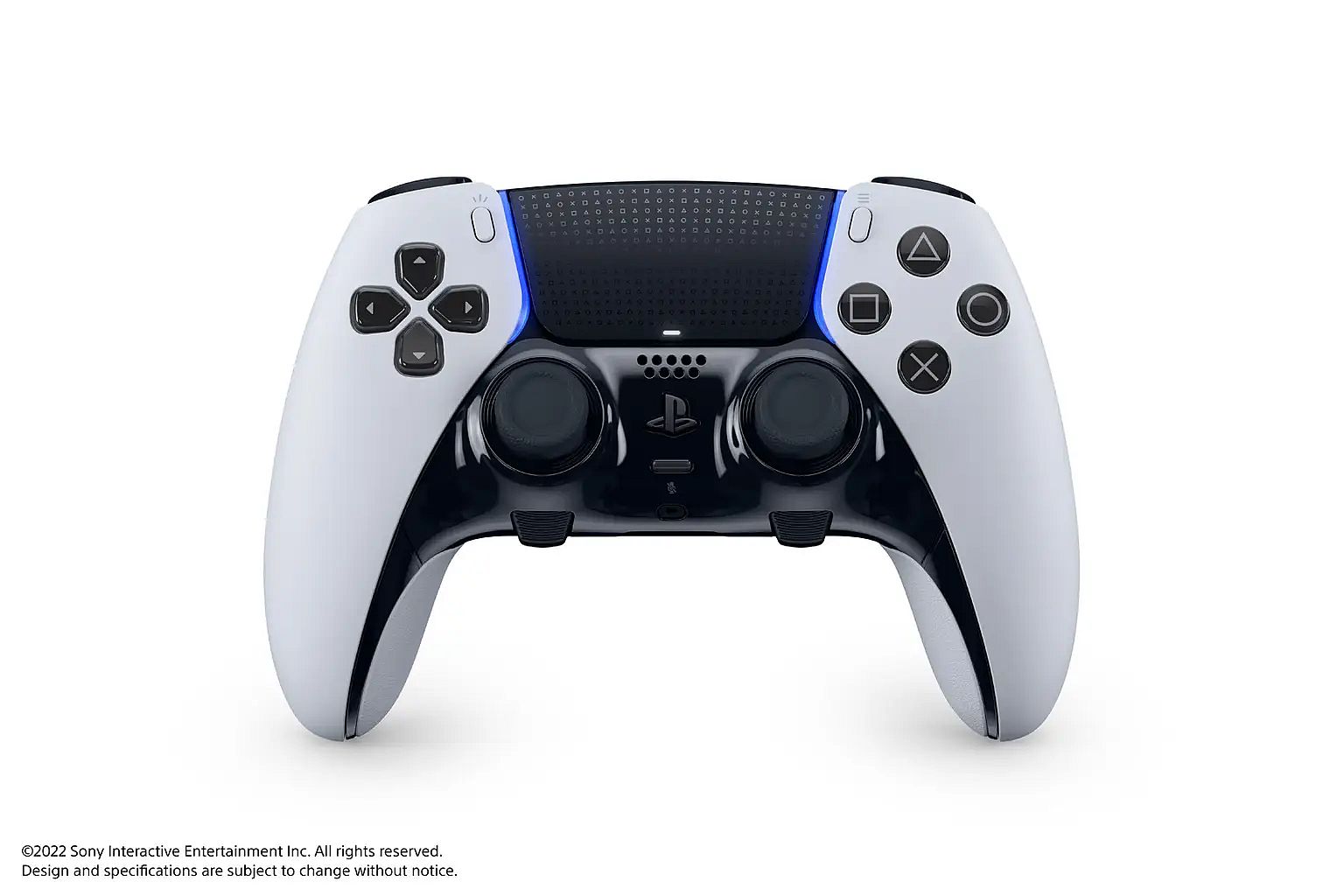 What a lot of people will want to know, inevitably, is how this stacks up compared to the Xbox Elite Series 2, the opposite number of this pad from Microsoft. And… it's complicated? In a lot of things it's pretty neck-and-neck, the controllers relatively equivalent. You can tell Sony studied the Xbox version closely in crafting this offering.
There is one major difference between the two – and it's in how the analog sticks are handled. With the Edge, they can be removed, but the full potential of this remains unclear until we see if Sony sells more varied options to slot in its place. I also think the DualSense Edge feels a little more sexy and premium, both in terms of the controller itself and the accessories and carry case it ships with. But on Xbox, the Elite Series 2 has adjustable tension analogue sticks, the swappable D-Pad setup, and it doesn't have woeful battery life. Plus, you can now create custom designs with Xbox Design Lab. Six of one, half a dozen of the other, as they say.
This is all very interesting, because generally speaking I think Xbox has been a little bit better about this hardware stuff. I really rate the Xbox Official Wireless Headset, for instance. I think it makes Sony's Pulse 3D headset feel like a cheap piece of crap. But the DualSense Edge is actually on par with the Xbox Elite Controllers – and if the build quality holds up and some of its early promise pays off, it could actually claim the crown as the best 'Premium' controller on the market. That's a big victory. Shame about the battery life, though.
Denial of responsibility! insideheadline is an automatic aggregator around the global media. All the content are available free on Internet. We have just arranged it in one platform for educational purpose only. In each content, the hyperlink to the primary source is specified. All trademarks belong to their rightful owners, all materials to their authors. If you are the owner of the content and do not want us to publish your materials on our website, please contact us by email – [email protected]. The content will be deleted within 24 hours.