The following contains spoilers for Flashpoint Beyond #0, on sale now from DC Comics.
The world of Flashpoint has returned, and with it, the return of many of the iconic characters from the original story too. As Thomas Wayne ventures through the world he thought long gone in this new series, something doesn't seem quite right. The answers aren't clear yet, but they appear to involve a certain Flash villain.
Towards the end of Flashpoint Beyond #0 (by Geoff Johns, Eduardo Risso, Trish Mulvihill, Rob Leigh, Dexter Soy and Alex Sinclair), Thomas not only failed to turn Barry Allen into the Flash, but he also failed to save him from certain doom. There is one person for whom Barry's death would bring immense happiness though, and they briefly showed themselves at the scene of the crime.
RELATED: Batman's Father Preps for War With Aquaman in Flashpoint Beyond First Look
The Reverse-Flash is alive and well and in the realm of Flashpoint once again. He was bound to return sooner or later but this time, it's a little more complicated. He was seemingly written out of time for good when last he was seen, just before the events of Dark Nights: Death Metal. At the end of Joshua Williamson's run on The Flash, the Fastest Man Alive had his final confrontation with his bitter nemesis, Eobard Thawne. The time-traveling speedster had once again sought to erase Flash's legacy once and for all. However, the opposite occurred. Barry regained his extended Flash Family. Meanwhile, Thawne's life, which led him to evil in the first place, was undone by the man he hated most. Barry forgave Thawne and, when the villain phased through the Flash in anger, his timeline was reset. With the Flash's resentment for Thawne gone, there was nothing to tie him to his evil life, and he was reset as a kind museum curator.
Obviously, Eobard Thawne's hatred knows no bounds, so he was always going to return as the Reverse-Flash at some point. It's likely that his timeline reset at some stage, perhaps for the same reason the Flashpoint timeline has returned. Or perhaps Thawne found a way to separate his evil self from the reset version who lived a happy life. He's managed to escape multiple changes to the timeline before. Both of these explanations center around Flashpoint though. Either his recently erased self was drawn in by the recreated reality or this is a version of Thawne from the original Flashpoint story, before everything he did in the New 52 onward. Whatever the explanation though, he's most certainly doomed.
The Clockwork Killer is the mysterious antagonist of the new Flashpoint Beyond series. This unknown individual is targeting anyone with knowledge of time travel in the Flashpoint timeline, such as another time-traveling Flash villain, Abra Kadabra. It doesn't seem a coincidence that this timeline's Barry Allen was killed just before he gained his powers, which would allow him to traverse the time-stream. With Thawne's limitless knowledge of time travel, he's bound to be targeted as soon as he reveals himself to Thomas Wayne.
RELATED: The Flash May Be Back To Being a Jerk Again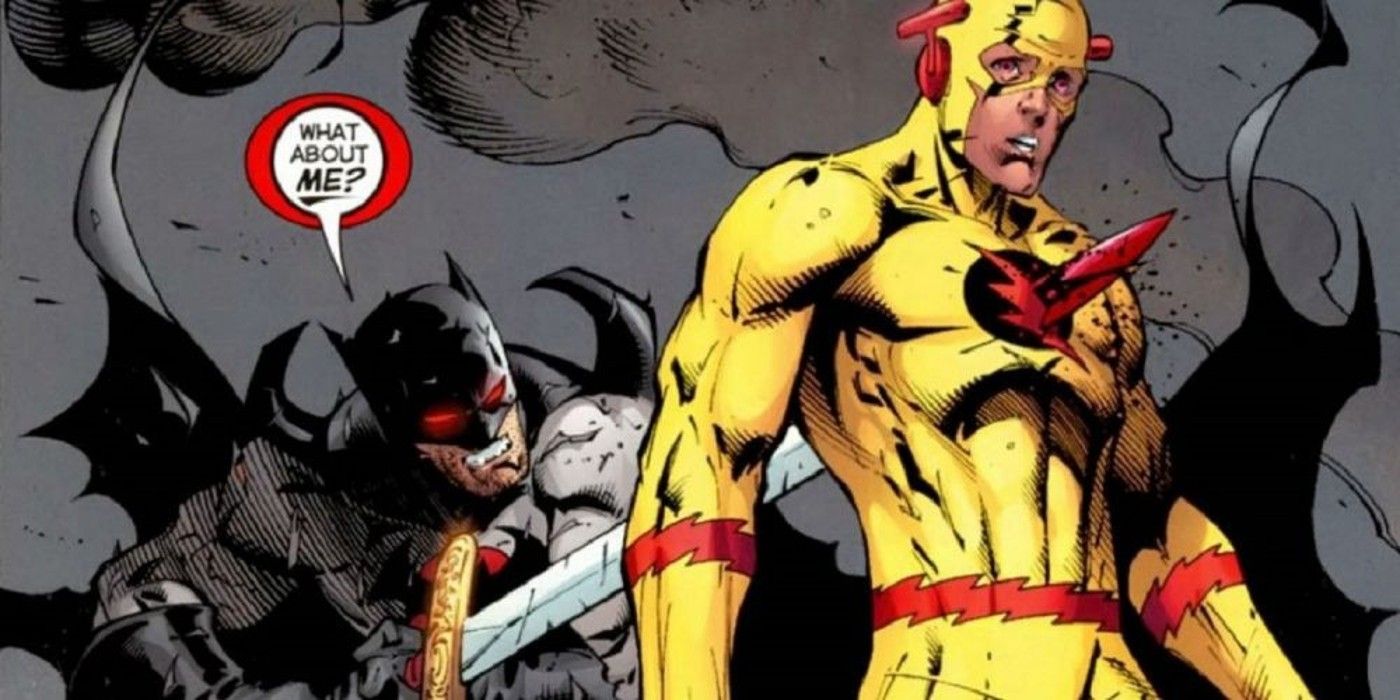 Even though he's likely to meet his maker in the upcoming series, it wouldn't be the first time. The Reverse-Flash has died on numerous occasions, and many of them only recently. Throughout the Rebirth era he, rather fittingly, faced a number of deaths and rebirths. After he regained his Flashpoint memories, he confronted Batman about it. This led to his meeting Doctor Manhattan, who killed him. The Negative Speed Force healed his body and fully resurrected him. Shortly after, he was then killed by Iris West. Nevertheless, he returned later, whish resulted in the aforementioned reset to his timeline. Thawne also famously died at the end of the original Flashpoint, when Thomas Wayne ran him through with a sword.
So, the Reverse-Flash has a history of dying. Time travel wrinkles tend to be the reason why he comes back after each death and that certainly seems to be the case here. However, those same circumstances are exactly why he'll die once again in this series. Even if he's fated to return after this next death, the reasoning behind his impending doom is certainly ironic to say the least.
DC's Dark Crisis Pits the Flash Against a Major Batman Foe After the Justice League's Death
Read Next
About The Author
Denial of responsibility! insideheadline is an automatic aggregator around the global media. All the content are available free on Internet. We have just arranged it in one platform for educational purpose only. In each content, the hyperlink to the primary source is specified. All trademarks belong to their rightful owners, all materials to their authors. If you are the owner of the content and do not want us to publish your materials on our website, please contact us by email – [email protected]. The content will be deleted within 24 hours.